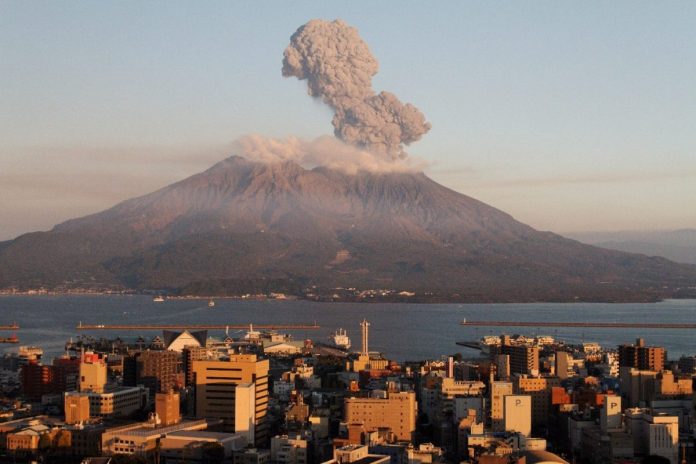 On Sunday the Mt. Sakurajima volcano in Japan began blasting the rock into the sky. The NHK local television outlet says that some of the rocks are landing 2.5 km (1.5 miles) away from the active volcano.
Japan's Prime Minister, Fumio Kishida, has ordered local officials to take action. Deputy chief cabinet secretary Yoshihiko Isozaki had a press event where he said: 'We will put the people's lives first and do our utmost to assess the situation and respond to any emergency.'
Japanese Active Volcano erupts
The closest city is Kagoshima. It is located across the bay from the volcano. 
There have been no reports of damages, so far. And two hours after the eruption, a government spokesperson claimed that there were no injuries or damages.
The volcano is located on the Japanese island of Kyushu.  Evacuations of 120 residents from two local villages located about 3 km (1.9 miles) from the crater have been ordered. And a level 5 alert remains in effect.
The volcano is one of the most active in the world. Eruptions of varying levels are seen on a regular basis. The last time it was at a level 5, rock and ash were blasted 5.5 km (3.4 miles) into the air in 2019.
Until 1914, the largest recorded eruption of the active volcano, the mountain used to be an island.  But that eruption transformed it into a peninsula.
Sakurajima is almost 600 miles southwest of Tokyo. And it has a long history of volcanic activity.
According to the Japanese Meteorological Agency (JMA) and video evidence the eruption took place at 8:05pm or 12.05pm British time.
Video footage from yesterday's eruption shows a molten red mass flowing down one side of the volcano. And bright projectiles are shooting out as smoke billows into the night sky.
According to JMA a larger than usual eruption may still be expected. This increases concerns since the volcano is located just 50 km (31 miles) from a nuclear reactor. Japan's nuclear regulators reported no irregularities had been detected at the Sendai nuclear power plant.
The agency warned of falling rock in areas within 3 kilometers (1.8 miles) of the crater. There is still the possibility of flowing lava and ash. And hot gas shoots up to 2 kilometers (1.2 miles).
Officials at the Prime Minister's office and The Smithsonian National Museum of Natural History Global Volcanism Program continue to monitor the situation as it develops.