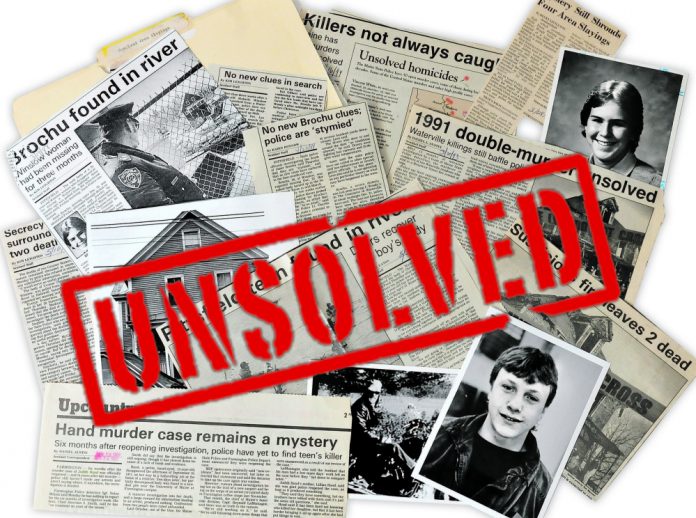 DNA evidence is heating up cold cases. Advances in the last few years in DNA tech evidence are being credited with solving hundreds of cold case murders in the United States.
DNA tech evidence advances
 Authorities have long been able to try to match crime scene DNA to the FBI crime database.  Experts are now able to use genetic genealogy.  And having success comparing DNA tech evidence to the massive amount of public data available. 
Using DNA profiles from platforms such as Ancestry.com and 23andme enables experts to track down killers through their family trees.
 Decades-old murders are no longer unsolved. And killers are learning they can run but they have nowhere to hide from DNA evidence.
Linking cold cases 
In 2012, Bay Area detectives had matched a suspect's DNA to two cold case murders from 1980 and 1996.  And they knew that one killer had committed both crimes.  
Last week, DNA evidence from a third crime led to the arrest of James Ray Gary, 76.  
Early this month detectives learned that a sexual assault investigated by North Bay police in 2021 matched the DNA profile from the two murder cases.
Detectives collected a DNA sample from Gary, a suspect in the latest case. And matched the DNA in all the three crimes.
"We are hopeful that this arrest can help bring some closure to the families and friends that have been seeking justice for as much as 40 years," the department said.
According to authorities, in July 1980, Latrelle Lindsay, 46, was found murdered at her home in Union City. She was sexually assaulted. And died of "asphyxia due to strangulation associated with blunt force injuries." 
"A DNA sample was later sent for entry and search in a law enforcement database, but no match was made," per the police department's news release.
Nearly 16 years later, in March 1996, another woman's body was found by state transportation workers in the bushes along Interstate 780 near Laurel Street in Vallejo. Forty-six-year-old Winifred Douglas' cause of death was similar to Lindsay's: "asphyxia and blunt force trauma to the head and neck."
Gary was booked at Solano County Jail charged with the 1996 homicide. He will not be allowed bail.  The department says that more charges will be brought against Gary related to the 1980 homicide.
DNA matches suspects
On July 22nd Dallas police arrested David Rojas,53 and charged him with capital murder. He is linked by DNA to the death of Mary Hague Kelly, a woman 33 years ago.
Kelly was murdered on January 19, 1989, at her home in a quiet neighborhood in Dallas. 
Police at the time noted there were no signs of forced entry into the home. And many of Kelly's personal belongings and her vehicle were missing. 
The Medical Examiner later determined that the cause of death was strangulation.  DNA samples were taken from Kelly's body. And the investigation continued. Until it eventually went cold.
On June 28, 2022, 33 years later, there was a breakthrough. DNA evidence from the Kelly case matched Rojas.  
He is being held in the Dallas County Jail.
1956 Great Falls Montana mystery
Two popular teenagers were murdered 65 years ago in Great Falls, Montana. And according to investigators the double murder has been solved with DNA evidence.
Cascade County Sheriff's Office investigator Sgt. Jon Kadner told CNN in an interview that "It was such a big case. Two popular kids who were essentially gunned down in a Lover's Lane situation," said Kadner.
Investigators now know the killer was Kenneth Gould. In 1956 he was a Great Falls native. And grew up near one of the victims.
Patricia Kalitzke, 16, and her boyfriend Lloyd Duane Bogle, 18, were found near Bogle's car. Kalitzke had been sexually assaulted. And both teens were fatally shot in the head.
In 2001, a DNA profile of a suspect was developed using forensic evidence preserved from Kalitzke's 1956 autopsy, Kadner said. 
Later the evidence was compared to DNA available in private commercial databases like Ancestry.com.
"They built a family tree backward and then forward to develop (the link to) Kenneth Gould," Kadner said.
By the time Gould became the prime suspect, "He died in 2007 and was cremated," Sgt. Kadner said.
Investigators had no way to confirm his guilt directly with DNA. 
But police were able to find two of Gould's grown children. And they both submitted DNA samples. The DNA, which matched the 1956 evidence.
Kadner believes this may very well be the oldest murder case to be solved with DNA genetic technology.
Even though he knew the killer was likely to be dead by the time he was identified, Kadner said he felt driven to solve the case.
He wanted to solve the cold case after reviewing the department's decades of files worked by so many past detectives.
"They poured their heart and souls into that case, and it just made you realize how hard investigators had worked," he said. "The same thing happens to you, essentially."
And although police still do not have a motive. The victims' families at least know who committed the murders. And the families have told Kadner they appreciate at least having some answers to the 65-year-old mystery.