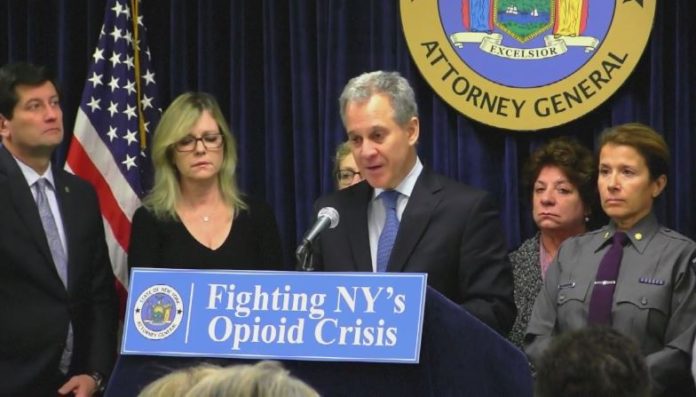 New York Attorney General Eric Schneiderman announced a major arrest of drug traffickers that operated from coast to coast.
The arrest was the result of a multi-agency investigation called "Operation Blue Death," an initiative to combat the opioid epidemic.
Authorities shut down a ten-person drug trafficking ring. The drug traffickers allegedly peddled narcotics including heroin and faux oxycodone pills that contained fentanyl. The perpetrators allegedly operated from California to Western New York.
Authorities seized 502 pills laced with fentanyl, over 100 grams of black tar heroin, and over 130 grams of cocaine. They also sequestered 15 pounds of marijuana, and a 9mm highpoint pistol with 27 rounds of ammunition.
AG Schneiderman will continue to address opioid crisis
AG Schneiderman filed a 59-count indictment against 9 drug traffickers from Buffalo, New York, and their supplier from Rialto, California.
In a statement, AG Schneiderman said, "These dealers were playing Russian Roulette with New Yorkers' lives. Today we're taking these poison pill traffickers off our streets following an extensive investigation."
According to the the Attorney General, the drug traffickers peddled pills made from a toxic mix of fentanyl and acetaminophen. They intentionally made the pills to look like oxycodone, a powerful opioid.
In addition, AG Schneiderman vowed that they will continue to use very tool at their disposal to combat the opioid crisis.
During a press conference, AG Schneiderman emphasized that "fentanyl is one of the most deadly drugs in the world." He added that "fentanyl is 50 times stronger than heroin and it is cheap."
In September, AG Schneiderman released a public health warning in Buffalo regarding the dangerous and potentially deadly fake oxycodone pills.
Law enforcement does not tolerate drug trafficking
On the other hand, DEA Special Agent in Charge James Hunt said, "These arrests will make a significant impact in quality of life for residents on the West Side of Buffalo."
Additionally, Agent Hunt said the defendants "enabled addiction by selling heroin, cocaine, and fentanyl disguised as oxycodone pills for their personal gain."
Meanwhile, Superintendent George P. Beach said law enforcement does not tolerate trafficking of heroin and other illegal drugs in New York.