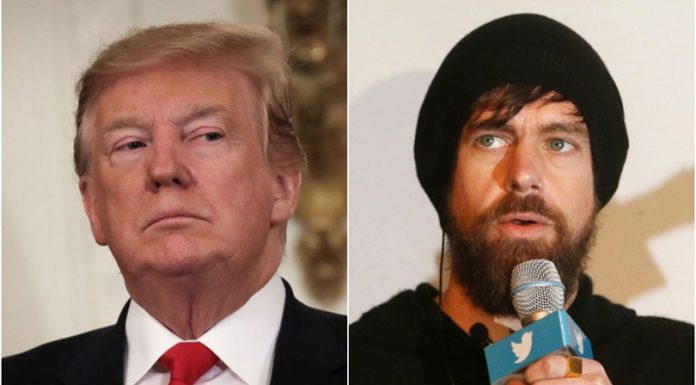 Thursday, a Twitter account that appeared linked to Iran's Supreme Leader Ali Khamenei, tweeted an image of a shadow hovering over former President Trump playing golf. The figure golfing is in the shadow of a drone, with the caption "Revenge is certain" written in Farsi.
President Trump was assumed to be the golfer in the image, as the threat is thought to be a warning of retaliation ahead of the first anniversary of the U.S. drone strike that killed Iranian Revolutionary Guard General Qassem Soleimani in Baghdad. In his speech, Khamenei did not call out Trump by name but reiterated a vow for vengeance against those who ordered and executed the attack on Soleimani.
"Vengeance is inevitable. Both the murderers and those who ordered it should know that revenge may come at any time," the post said, implying a drone could strike Trump.
Iran has a massive drone program and has drones that it claims can fly thousands of kilometers. Some of these are so-called kamikaze drones, that behave like cruise missiles. Iran has used them against Saudi Arabia.
BBC and the Associated Press reported the account was linked to Iran's supreme leader and notes that it was retweeted by Khamenei's Farsi account. A Twitter spokesman said that the tweet had violated the company's "abusive behavior policy," and the account had violated its "manipulation and spam policy. He said Twitter determined the account was "fake," without providing any transparency regarding how it came to the conclusion."
The backtracking occurred, even after the image first appeared on a Persian-language Twitter feed that carried a link to Ayatollah Ali Khamenei's website. "Revenge will certainly happen at the right time," Khamenei had declared.
"Iran widely blocks social media platforms and censors others. While top officials have completely open access to social media, Iran's youth and tech-savvy citizens use proxy servers or other workarounds to bypass the controls." Associated Press reported.
Twitter banned President Trump for 'alleged incitement of violence', while allowing U.S. government officials to routinely stoke unrest during the pandemic lockdowns. Additionally, Twitter defended allowing over 70,000 active ISIS accounts, multiple Iranian elite government official accounts, and multiple (real and fake) accounts linked directly to Ayatollah Khamenei's website. Underneath the website pictures were remarks by Khamenei.
Other accounts thought to be tied to Khamenei's office that did not tweet the golf-drone photo, including his main English language account, remained active. The photo had also featured prominently on the supreme leader's website.
On Friday, Twitter put out a statement that the fake account was suspended. No comment was provided regarding the account being banned in the future.
Have a story you want USA Herald to cover? Submit a tip here and if we think it's newsworthy, we'll follow up on it.
Want to contribute a story? We also accept article submissions – check out our writer's guidelines here.