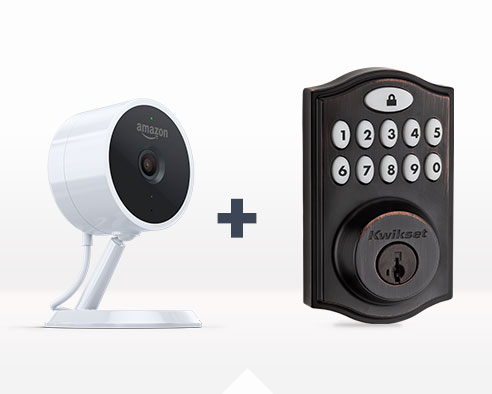 Amazon recently announced their "New Level of Delivery Convenience for Prime Members," with the Amazon Key. The Amazon Key is a new service for prime members who can give access to their home for in-home delivery at no extra cost. It will start off being available in 37 cities across the United States with a goal to expand to more states and possibly global. The Amazon Key allows customers to grant secure home access for guests and service providers, such as Merry Maids, Rover and professional services from Amazon Home Services on the horizon.
Per Amazon's Vice President of Delivery Technology, Peter Larsen, the "Amazon Key gives customers peace of mind knowing their orders have been safely delivered to their homes and are waiting for them when they walk through their doors. Now, Prime members can select in-home delivery and conveniently see their packages being delivered right from their mobile phones."
There are some questions about this new service that needs to be addressed considering consumers are allowing a perfect stranger into their home just to deliver a package in-home versus the front door.
What is the screening process for Amazon Key's delivery staff?
Does the "Amazon Cloud Cam" capture every angle of your home?
A front door security cam is fine and dandy but once the delivery person is in your home is there a time constraint?  Ideally, it would be smart for consumers and said delivery staff to know this is the only allowed time to be in a consumer's home.
Similar to Uber and Lyft when they send a picture of the driver to pick you up, will they give prime members a picture of the person entering their home?
Though it is understandable to want your packages delivered in a safe and no hassle environment like your home what happens when Amazon implements drone delivery?
Amazon states that once set-up is complete, receiving in-home delivery is as simple as a click. Customers will be able to select "in-home" while shopping and Amazon handles the rest. Amazon Key allows customers to have their packages securely delivered inside their home without having to be there. Using the Amazon Key app, customers stay in control and can track their delivery with real-time notifications, watch the delivery happening live or review a video of the delivery after it is complete.
Per Amazon, each time a delivery driver requests access to a customer's home, Amazon verifies that the correct driver is at the right address, at the intended time, through an encrypted authentication process. Once this process is successfully completed, Amazon Cloud Cam starts recording and the door is then unlocked. No access codes or keys are ever provided to delivery drivers and in-home delivery is backed by Amazon's Happiness Guarantee.
As of now, delivery will be available on over a million of items sold on Amazon.com and the delivery is available at no extra cost for Prime members. The Amazon Key works with Same-Day, One-Day, Two-Day and Standard Shipping.
Prime members can pre-order the Amazon Key In-Home Kit that includes the Amazon Cloud Cam and customers can install the In-Home Kit themselves. Alternatively, customers can also get free professional installation.
The service also offers keyless access for family and friends. The answer to one of my questions about the Amazon Key and time constraints is resolved. Customers can set the frequency and length of time a person has access, and add or remove contacts as they see fit. In the near future, the Amazon Key will also provide customers with professional service scheduling with thousands of providers. This includes integrations with cleaning experts from Merry Maids, pet sitters and dog walkers on Rover.com.
The Amazon Key In-Home Kit starts at $249.99. The Amazon Key will include the Amazon Key app, a smart lock and the Amazon Cloud Cam, an intelligent indoor security camera. Customers can visit www.amazon.com/key to check eligibility, pre-order the Amazon Key In-Home Kit and schedule free professional installation.
About Amazon:
Amazon is guided by four principles: customer obsession rather than competitor focus, passion for invention, commitment to operational excellence, and long-term thinking. Customer reviews, 1-Click shopping, personalized recommendations, Prime, Fulfillment by Amazon, AWS, Kindle Direct Publishing, Kindle, Fire tablets, Fire TV, Amazon Echo, and Alexa are some of the products and services pioneered by Amazon. For more information, visit www.amazon.com/about and follow @AmazonNews.
###
Source: Amazon Press Room