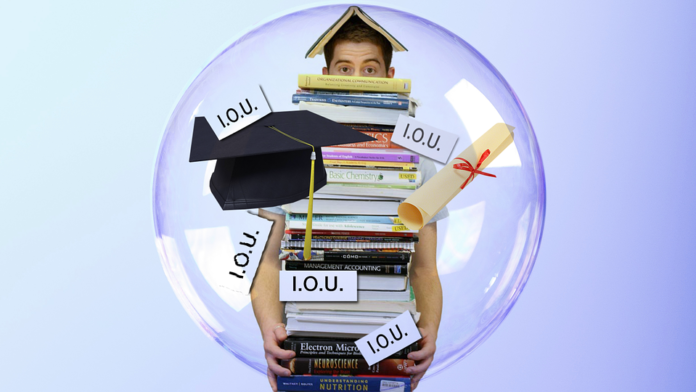 Ameritech Financial along with its officer Brandon Frere were accused of taking illegal up-front fees in a student loan debt relief scam as part of the FTC's Operation Game of Loans. In the federal complaint filed on February 7, 2018, Ameritech is accused of using deceptive business practices since 2014 and illegally charging consumers.
Deceptive Marketing Practices Used by Ameritech
Starting at paragraph 22 of the complaint, the FTC alleges that Ameritech used personalized direct mail pieces (also included as exhibits) to inform consumers that they were pre-qualified for student loan payment reductions through the "Student Loan Reform Act." The mailers also gave outrageous reductions. In fact, Exhibit A-1 listed that the recipient could have their $1,110 monthly payment reduced to "as low as $68" per month. The flyers also informed some recipients that they could receive loan forgiveness for federal student loans under the "Health Care and Education Affordability Reconciliation of Act of 2010." (Exhibit D-1)
The FTC alleges in paragraph 23 that Ameritech did not explain or advertise any sort of monthly obligation to any service. Meaning, consumers had no idea that they were going to be required to pay some sort of fee related to the mailer. Consumers were urged to call a toll free number where thy spoke with a sales representative.
The sales representative would give consumers a new monthly loan amount and promise that any amount left on the student loan would be forgiven. The FTC alleges that Ameritech's representatives did not tell consumers the truth and inflated their savings.
Consumers Paid Illegal Up-front Fees and Monthly Membership Fees
According to the complaint, Ameritech charged consumers illegal up-front fees for their "help" for student loan debts. Consumers were then charged between $49 and $99 each month. The FTC alleges that Ameritech didn't use that money to pay on student loans on behalf of their clients. Instead, their clients received services unrelated to their student loan debt such as "key ring & luggage protection." (Exhibit G)
The up-front fees were between $100 and $1,300. The FTC alleges that Ameritech and Brandon Frere violated the FTC Act by providing deceptive student loan relief representation and the Telemarketing Sales Rule by accepting an advance fee for debt relief services.
Federal Student Loan Relief Is Free for Consumers
Ameritech and Brandon Frere's alleged conduct is absolutely disgusting because they are charging consumers (illegally) to access free information. There are numerous federal student loan relief programs that have no up-front fees (or other fees). Examples include Borrower's Defense to Repayment, Teacher Loan Forgiveness, Public Service Loan Forgiveness, and income-driven repayment. There are other programs as well. Each program has its own qualifications, but the supporting government agencies of each program do not charge consumers for the application process.