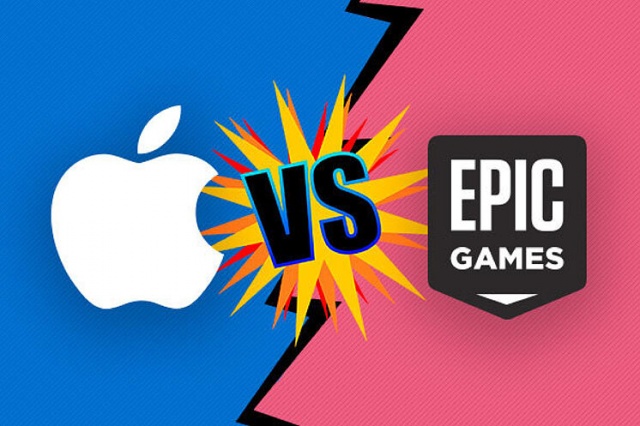 Apple CEO Tim Cook testified Friday in the anti-trust suit filed against the firm by Epic Games. The game-maker's wildly popular Fortnite has 350 million registered users and over 133 million downloads on iOS.
The bench trial is being presided over by U.S. District Judge Yvonne Gonzalez Rogers who will decide the case.
His testimony was done via call-in audio. Aggressively questioned about the iOS App Store, and Apple's business practices Cook maintained his cool. He answered questions about competition, data, privacy, and China. When asked if he knew about the App's store's billion-dollar gaming streaming services, he says, "Somewhat; I'm not a gamer."
Epic Games was trying to bypass the 30% fees Apple charges to game developers by updating the  Fortnite iPhone app, so gamers could directly pay Epic. In response, Apple pulled Fortnite from the App Store. Then Epic launched a "FreeFortnite" ad campaign. And filed suit against Apple.
Apple CEO describes profit guessing game
Cook aggressively defended the App Store as an "economic miracle." But he also insisted that the tech giant had no idea how much profit the store platform makes. And claims  Apple has no idea how profitable it is. It's not that they are trying to hide the numbers, by not releasing them…. they really don't know how much it is making.
"It's not a separate, stand-alone feature. It's a feature of our devices. So we don't have a separate profit and loss statement for the App Store," Cook said in testimony. 
Emails of Apple executives show that Apple executives had, in fact, talked about the large profitability of the App Store. Cook says those numbers weren't "fully loaded" and could not be used to make business decisions.  He finally acknowledged the App Store was profitable. When questioned about how he knew, Cook said blandly that  "We have a feel."
Analysts have estimated the App Store could make up as much as 30% of Apple's services division, which posted revenue of $16.9 billion for the March quarter. The suit is a big deal because a ruling against Apple on fees could slow its sales growth.
Monopoly or not?
Cook said the App Store provides a massive audience for developers and is streamlined, secure, and convenient for consumers. "We always put the user at the center of everything," he insisted.
Noting the 1.8 million apps on the service and almost 2 million people working in the "iOS job economy" Cook testified that Apple was largely responsible for the boom. The iOS operating system has a 30% market share in the U.S. And 15% of the global market where Android has the larger share.
Apple also makes it difficult for developers to direct customers outside of the App Store. And doesn't like anyone to collect payment without their fees.  Why shouldn't it, said Cook. If Apple helped  facilitate a move it "would be akin to Apple going down to Best Buy and advertising that you can go across the street to the Apple store and get an iPhone."
Growing Epic battle against Apple
The  Epic lawsuit claims Apple is engaging in monopolistic practices.  Apple claims the app was violating its terms and conditions. 
Epic, is gathering worldwide support from other companies and developers. A group of media and technology companies including Facebook, Base Camp, Epic Games, Spotify, News Media Europe, ProtonMail, and many others formed an independent nonprofit organization. The Coalition for App Fairness claims they are fighting for fairness and to promote competition across the app ecosystem.
The Coalition says the terms and conditions governing the Apple App Store are abusive, arbitrary, and onerous.
The App Store Trap
"Developers found themselves caught in a trap of Apple's making. They had accepted Apple's assurances that it would not make a profit on the App Store and once they committed themselves to work in the ecosystem they found non-negotiable termination provisions … a 'take it or leave it' infrastructure," said Epic attorney Katherine Forrest, back when the trial kicked off May 3.
Some say as a response to the legal problems Apple lowered fees to 15% for small businesses last year. 
Snap CEO Evan Spiegel, CEO of the Cupertino-based social media giant issued a statement of support for Apple. 
"We really feel like Snapchat wouldn't exist without the iPhone and without the amazing platform that Apple has created," Spiegel said on CNBC's TechCheck segment. "In that sense, I'm not sure we have a choice about paying the 30% fee, and of course, we're happy to do it in exchange for all of the amazing technology that they provide to us in terms of the software but also in terms of their hardware advancements."
Spiegel did not disclose that Apple owns Snapchat.  As of December 2020, Snapchat had 265 million daily, active users