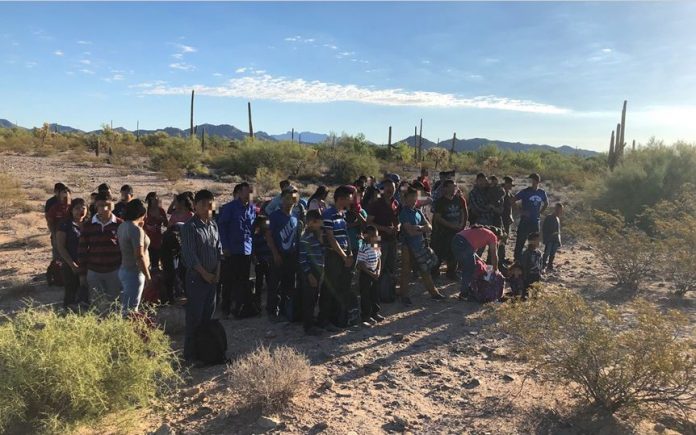 Arizona Border Patrol agents continue to encounter and arrest large group of immigrants attempting to enter the United States illegally. They apprehended more than 1,200 individuals over the past three months, according to the U.S. Customs and Border Protection (CBP).
Over the past two days alone,  Border Patrol agents assigned at the Ajo Station arrested two large groups at the western part of the Lukeville Port of Entry. They discovered the first group composed of 164 people on Tuesday afternoon. They encountered the second group of 100 individuals on Wednesday.
Both groups were composed of family units and unaccompanied minors from El Salvador, Guatemala, and Honduras. Their ages range from 11 months to 59 years old.
Last week, Border Patrol agents assigned at the Yuma Sector arrested a total of 275 people, most of them surrendered after entering the U.S. illegally. The immigrants came from eight different countries. Majority of them (215) came from Guatemala.
According to CBP, 21 of the immigrants were brought to the hospital. Some of them have back and ankle injuries, lacerations. Others are suffering from lice infestation and impetigo, a very contagious skin infection that mainly affects infants and children.
A daily crisis taking resources from border security mission
 In  a statement, Yuma Sector Chief Patrol Agent Anthony Porvaznik, said, "This daily crisis is taking manpower and resources from our border security mission and compelling us to redistribute them to a humanitarian mission."
Separately, last week, Ajo Station Border Patrol agents apprehended two large groups totaling 193 immigrants several miles west of the Port of Lukeville. The groups composed of adults and children came from El Salvador, Guatemala, and Honduras.
Most of them traveled and entered the U.S. as families but 11 children were unaccompanied.
Earlier this month, Border Patrol agents assigned at the Yuma Station caught 23 groups of immigrants from seven countries. The total number was more than 500 and most of the immigrants came from Guatemala and traveled as families.
In August, Arizona Border Patrol agents caught a total of 351 immigrants who entered the country illegally.
Transnational criminal organizations are taking advantage of vulnerable foreign nationals by falsely promising them of legal status. These criminals know that they are putting the lives of these immigrants at risk, but they don't care. In fact, they encouraged their victims to cross the border even during the summer months when temperatures are extremely hot and deadly.