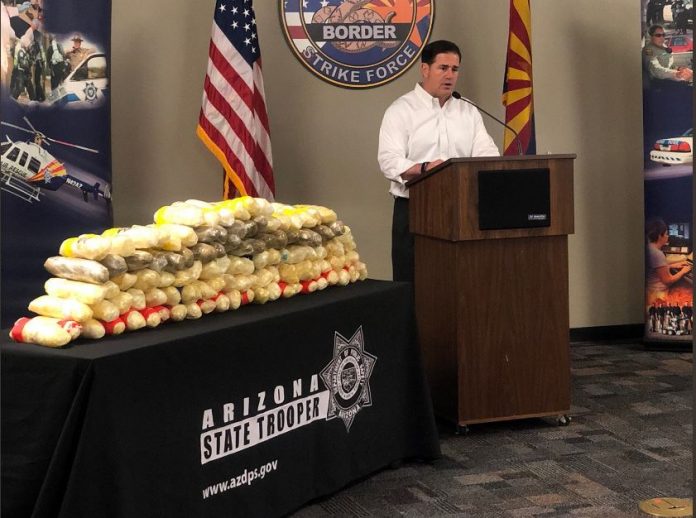 The Arizona Department of Public Safety (DPS) Border Strike Force seized 224.9 pounds of methamphetamine and one pound of fentanyl during three operations last week.
Governor Doug Ducey announced the huge drug seizure during a press conference on Monday.
According to Ducey, a DPS Border Strike Force trooper arrested Roberto Cervantes. The trooper sequestered 52 pounds on methamphetamine from him on September 8. Cervantes is a resident of Rio Rico, Arizona.
On September 12, a second DPS Border Strike Force trooper apprehended Guillermo J. Parada of Phoenix, Arizona. The trooper seized 122.9 pounds of methaphetamine from him.
On September 13, a third DPS Border Strike Force trooper arrested Martin G. Bogarin from Yuma, Arizona. The arrest happened in Interstate 8 in Yuma County. The trooper seized 50 pounds of methamphetamine and one pound of fentanyl from Bogarin.
The troopers transferred all three suspects to the respestive county jails. They booked them for possession of dangerous drug for sale and transportation of a dangerous drug for sale.
Each of the suspect violated the state's traffic law, which led to an initial traffic stop that eventually lead to searches and seizures of the illegal drugs.
The total street value of the sequestered methamphetamine is more than $10 million and the fentanyl is over $100,000. The seized fentanyl could possibly kill more than 227,000 based on its potency, according to a DPS crime lab personnel.
Arizona Border Strike Force is committed to stopping the flow of illegal drugs
In a statement, Ducey said, "Arizona's Border Strike Force works day and night to fight the everyday threat posed by drug cartels and human smugglers along our southern border. With just three traffic stops, Border Strike Force operations have stopped a significant amount of dangerous drugs from devastating more lives."
On the other hand, Arizona DPS Director Colonel Frank Milstead said the Border Strike Force is "dedicated to disrupting the flow of extremely dangerous and deadly drugs."
He added, "We understand the damage these drugs can cause, not only in a family, but also the community as a whole. We stand committed in our fight to combat these drugs which are plaguing our nation and destroying families."
In July, Ducey praised the Border Strike Force for delivering "exceptional" results since its establishment in 2015. He also announced that the law enforcement agency will receive additional $2.9 million in funding to expand its operations.