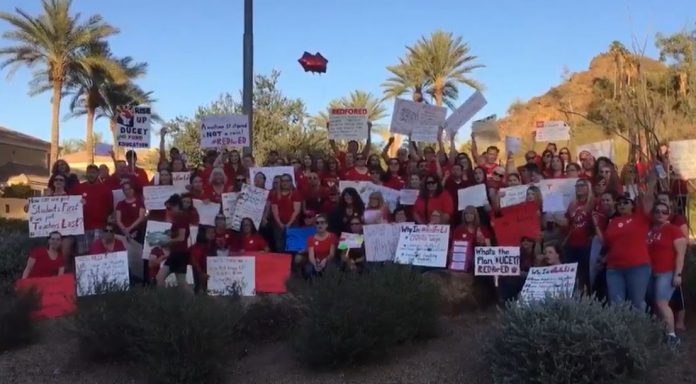 A group of Arizona Educators and their supporters protested outside a radio station where Gov. Doug Ducey was doing an interview on Monday afternoon.
They demanded the governor to increase their current wages, which are no longer adequate. In addition, the Arizona educators also demanded smaller size classrooms and qualified teachers for students.
The protest was part of the #RedforED movement, which was started by the Arizona Teachers United last week. The group already attracted more than 30,000 members on Facebook.
During the protest, the Arizona teachers made sure that Gov. Ducey heard their demands. They repeatedly chanted, "What's the plan? Ducey, what's the plan?"
Noah Karvelis, a teacher and one of the organizers of Arizona Eductors United, said, "We need answers. We need a plan and we need to see it fast. Until he gives up a plan, we're going to keep taking further steps here and increase our action."
Gov. Ducey's response to Arizona Educators  
Gov. Ducey responded to the protesters through the "Mac and Gaydos Show" on KTAR radio station.
The governor said he agrees with the teachers. He reiterated that his budget proposal included $400 million in additional funding for education.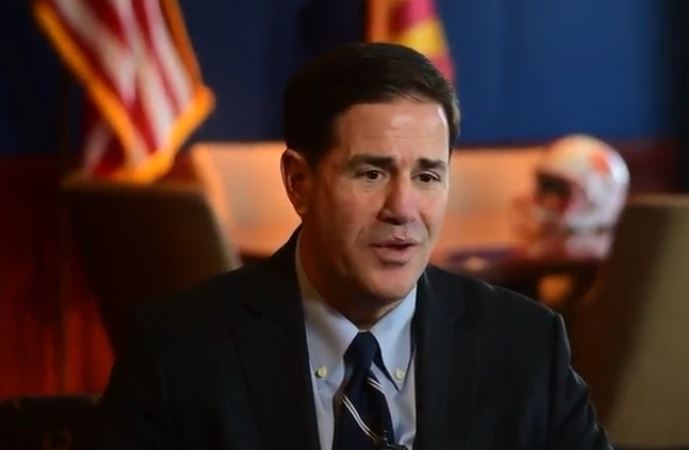 Gov. Ducey said, "They may want us to do more. They may want it to be faster. I don't think you can put any more money than we have into public education while protecting public safety and child safety…"
When asked about a possible teachers' strike, the governor responded, "I've talked to a lot of superintendents, and they don't think that would be a good idea for kids or learning inside of our classrooms."
The Arizona Teachers United is planning to hold another protest at the state Capitol on March 28. The Arizona Parent Teachers Association and the Save Our Schools Arizona will be joining the rally.