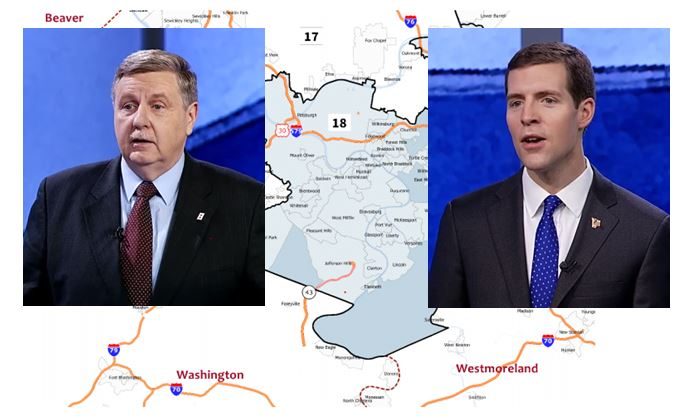 Democrat Conor Lamb and Republican Rick Saccone are neck and neck in the Pennsylvania special election for 18th Congressional District.
As of this writing, around 11:16 PM local time Tuesday, 99% or more than 200,000 votes have been counted. According to CNN, Lamb gained 111,875 votes (49.9%) while Saccone had 111,028 votes (49.5%). The Democratic candidate is ahead by 847 votes. The race is really tight.
The Democrats are seeking to flip the district, which was previously held by GOP Rep. Tim Murphy, who vacated his seat in the U.S. Congress due to a scandal. The woman whom Murphy was having an affair with alleged that he urged her to have an abortion. Murphy is well-known for his pro-life position.
Pennsylvania absentee ballots 
Larry Spahr, the director of election for Washington County told CNN that they will count the absentee ballots tomorrow morning. According to him, the county received 1,195 absentee ballots.
Under Pennsylvania law, election officials are required to put the ballots in secure envelopes, and returned to the precincts where they came from. The election boards at those precincts will then return the ballots to the county, according to Spahr.
He added that county officials are responsible for opening the ballots in the county's election office. They will then prepare the ballots for scanning tomorrow morning.
Earlier tonight, a senior campaign adviser for Lamb told CNN's Jason Carroll that they remain optimistic that they can defeat Saccone.
On the other hand, Saccone told his supporters that the race is not yet over. They are "still fighting the fight."
Republicans spents over $10 billion to prevent a defeat
Republicans spent more than $10 million to prevent Democrats from flipping the district. President Donald Trump won the district by 20 percentage points in 2016. The President is surprised by the slim margin. He is asking for updates while at his fundraising dinner in California, according to a Republican official.
If Lamb wins, it is a sign that Democrats could regain control of the House of Representatives in the midterm elections. Republican could lose even in districts considered safe. It could also lead to more House members retiring instead of running a very risky re-election bid, according to political observers.
UPDATE:  March 14,12:20 AM local time
The National Republican Congressional Committee (NRCC) Communications Director Matt Gorman released a statement regarding the Pennsylvania special election.
He said, "This race is too close to call and we're ready to ensure that every legal vote is counted. Once they are, we're confident Rick Saccone will be the newest Republican member of Congress."
Meanwhile, new votes from Westmoreland County came in and Lamb's lead dropped to 627 votes.