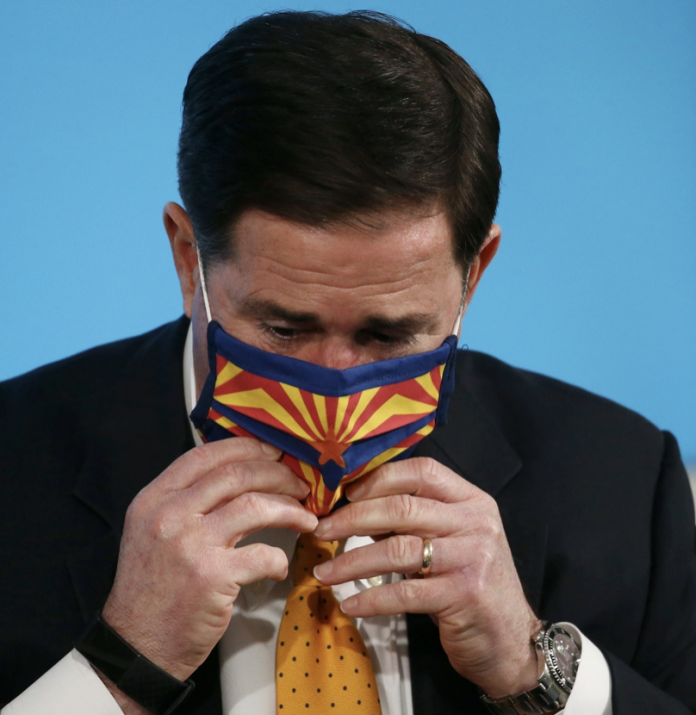 For a while now, America has gradually begun reopening for business following coronavirus shutdowns in several states. With calls for social distancing and face coverings, elected officials gradually began easing back certain restrictions.
Many folks on the right praised these moves while the left censured them. Republicans largely argued in favor of allowing people the freedom to work, support their families, etc.; meanwhile, Democrats claimed that reopenings happened too quickly and too soon.
As reports of surging coronavirus cases hit the headlines, some elected officials are making controversial decisions, yet again. Thus far, one of those decisions entails regressing back into shutdown mode; at least, that's the situation that transpired in Arizona on Monday.
What to know about Arizona's second shutdown
Monday at 8 p.m., Gov. Doug Ducey's orders for another state closure went into effect. To be precise, Arizona's second shutdown involves the closure of movie theaters, fitness centers, gyms, and bars; tubing rentals and waterparks are also banned from operations.
According to the Arizona governor, these shutdowns will remain for at least one month. Gov. Ducey cited these measures as necessary to avoid overwhelming hospitals and ultimately slow the spread.
Effective at 8:00 p.m. tonight, we are instituting a month-long pause on the operations of bars, gyms, movie theaters, waterparks and tubing rentals. This will help relieve stress on our health care system and give time for new transmissions to slow. 2/

— Doug Ducey (@dougducey) June 29, 2020
The measures that went into effect yesterday furthermore place restrictions on gatherings. Arizona residents are hereby banned from congregating in groups that supersede 50 individuals; of course, this mandate also means that a delay exists for when schools can reopen.
Additional announcements from the Arizona governor included encouraging state residents to stay home. Ducey stated that when remaining in one's home isn't possible, Arizonans should wear face masks.
We must be clear-eyed. The next few weeks will be hard. But these steps combined with stepped-up compliance with public health guidance can make a difference, and we're grateful to Arizonans for their cooperation.

Stay home.

Wear a mask.

Be responsible. 8/8

— Doug Ducey (@dougducey) June 29, 2020
Over the past several weeks, the issue of face masking has turned extremely controversial and political. Different Americans have varying perspectives on mask-wearing; many do not feel obliged to have the government issue face mask mandates. As more elected officials roll out mandates for Americans to wear face coverings, they're facing social pushback and even lawsuits.
Gov. Ducey concluded his announcement of Arizona's shutdown by declaring that residents need to keep clear eyes in spite of the "hard" weeks that lie ahead.
Presently, the Arizona governor is facing social media backlash from state residents that oppose a second shutdown.