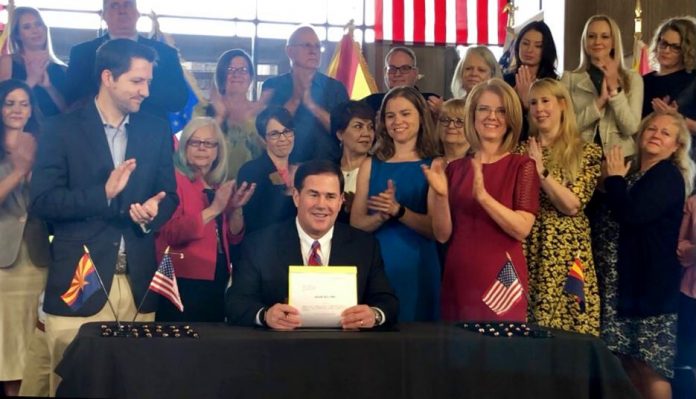 Arizona Governor Doug Ducey increased protections for victims of child sexual abuse by establishing a task force dedicated to recommending further reforms to ensure they receive healing, safety, justice and restitution.
The Justice for Victims of Child Sexual Abuse Task Force will be responsible for reviewing Arizona's laws and recommending legislative reforms to protect children from sexual abuse.
Gov. Ducey will appoint all the members and the chairman of the task force. Membership shall include one representative from Arizona's legislature, law enforcement agencies, the governor's office, and advocacy groups dedicated to ending domestic and sexual violence.
The Governor also signed into law a bill extending the amount of time for sexual abuse victims to file civil lawsuit against their perpetrators.
Child sexual abuse victims need time to come forward and seek justice
In a statement, Gov. Ducey said, "We cannot overstate the pain and trauma suffered by victims of child sexual abuse. We know victims need time to process and understand what happened. They deserve the time to come forward."
"With this bill, Arizona is taking a stand to hold abusers accountable and provide justice to victims of child sexual abuse. This reform did not come easily, but progress on the really important issues rarely ever does. I want to thank Senator Boyer for his dedication to the children of Arizona," he added.
H.B. 2466 extends the statute of limitations for child sexual abuse victims to 12 years—allowing them to seek justice until the age of 30.
The bill also provides a window for victims to file a civil action against their abusers until December 31, 2020.  Some victims previously didn't have the opportunity to seek justice because of a two-year limit.
Additionally, H.B. 2466 allows the filing of a civil lawsuit against an organization that knew or had notice that a person sexually abused a minor.
A good legislation that gives child sexual abuse victims a greater voice
Rep. T.J. Shope Shopped commented that the Arizona legislature passed a "good legislation that will allow victims more time to file suit against their abusers while at the same time providing safeguards for the innocent."
"I applaud my colleagues for working through some very difficult issues to give victims of child sex abuse a greater voice and bringing Arizona's law more in line with other states," he added.