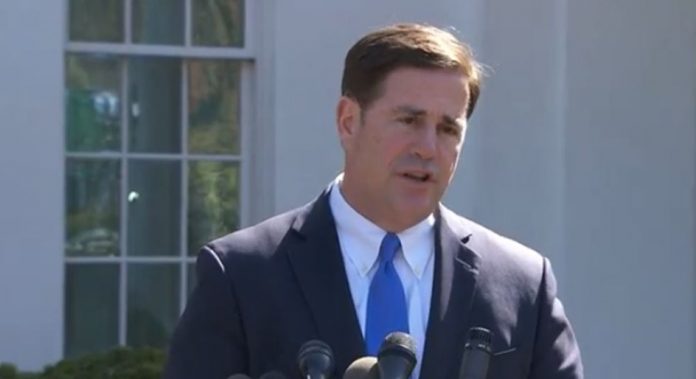 Arizona Governor Doug Ducey changed his position regarding the issue of shutting down the border after his meeting with President Donald Trump at the White House.
On Wednesday, Ducey told reporters that he supports a short-term shutdown of the border. He previously expressed his opposition to the President's plan to close the border.
"I had a positive meeting with President Trump, talking about the crisis at our southern border. As a border governor, we see this clearer than anywhere…from humanitarian standpoint and security standpoint. Our nonprofits are overwhelmed and reaching the breaking point. With summer coming very soon in Arizona and our temperatures rising, I'm concerned that any migrant crossing the border can be in real danger," said Ducey.
He added that the Congress needs to take action to resolve the situation at the southern border."
When asked if he supports shutting down the border, Ducey said, "I think that's a hypothetical right now, but if that were the situation right now, we would be supportive of it and want it to be as short as possible."
Arizona county sheriff criticizes Ducey
An Arizona county sheriff condemned Ducey for supporting a border shutdown.
Santa Cruz County Sheriff Tony Estrada said the Governor "should stand up" against the President on the issue. He cited that fact that a border shutdown could hurt both the United States and Mexico.
"He should stand up for the fact that Mexico is our trading partner. Millions and millions of dollars of goods cross the border every single day. Any stoppage, for hour a day or whatever it may be, is going to hurt both countries tremendously," said Estrada as quoted by KTAR News.
Additionally, Estrada said, Ducey should realize that shutting down the border is not beneficial for Arizonans. He believes the Governor is "not going against the President on this issue. He's going to enable him."
The county sheriff also recognized the fact the increasing number of migrants attempting to enter the U.S. is a problem. However, he said Mexico cannot prevent migrants from crossing the border but he believes it "can help in some way."