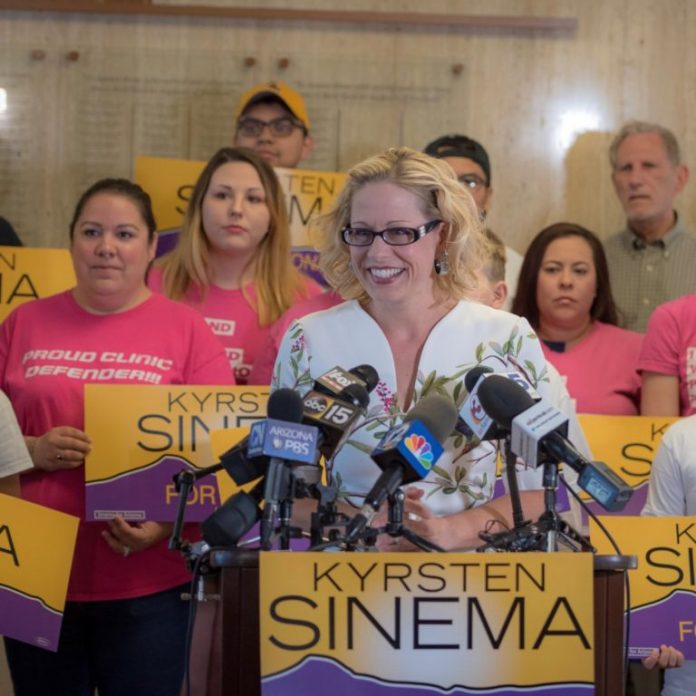 The Arizona Green Party candidate dropped out of the race for the U.S. Senate and endorsed Democratic contender Kyrsten Sinema.
On Thursday, Angela Green announced her decision during an interview with 12 News.  According to Green, her supporters should "vote for a better Arizona, and that would be for Kyrsten Sinema." She explained that the Democrat's positions are more in line with her "political agenda to help Arizona become greener [more green] again."
"After watching the debates and seeing everything, Sinema's stance on a lot of things are very similar to mine," said Green.
The latest poll showed that six percent of voters support Green. Therefore, her endorsement is a boost for Sinema, who has a slim advantage over Republican Martha McSally. 
Sinema was a previous Green Party activist
Sinema was a social worker and a Green Party activist opposing the Iraq war before joining the Democratic Party in 2004. At the time, she was elected to the Arizona House of Representatives. She served in the state's lower chamber until January 2010. On that year, she ran for the Arizona Senate and won the election. In 2012, she won a seat to the U.S. House of Representatives.
Many described Sinema as a moderate Democrat based on her voting record. She supports abortion rights, LGBT rights, and common sense gun control measures. She is also fighting for equal pay.
On immigration, Sinema voted in favor of Kate's Law, which expands the maximum sentences for deported foreign felons who tries to re-enter the country legally or illegally. She voted for the SAFE Act, which expanded the screening process for every refugee seeking asylum to the country. In addition, Sinema supported the DREAM Act and co-sponsored the Southwest Border Security Assessment Act.
Sinema is focusing her campaign message on health care, which she believes one of the important issues for Arizona voters. She voted against the American Health Care Act, which could have weakened the protections for people with pre-existing conditions. She noted that around 2.8 million Arizonans gave pre-existing conditions and promised to prevent any attempt to take away their protections.