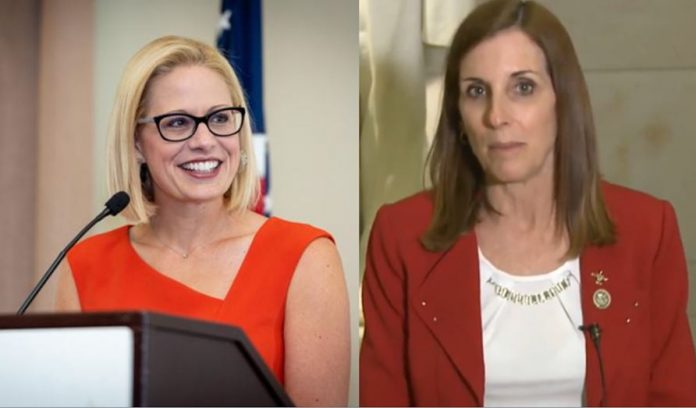 Democrat Kyrsten Sinema has a slim advantage over Republican Martha McSally in the Arizona Senate race. The candidates are seeking to replace retiring U.S. Senator Jeff Flake.
According to the latest CNN polls conducted by SSRS, Sinema is leading McSally by seven points (51 percent to 47 percent) in September. The difference is within the sampling's margin of error. In other words, the candidates remain in a very tight race, just five days before the election.
Sinema has higher support among women and independent voters
Sinema's support among women remained at 56 percent while McSally's was 41 percent, up from 35 percent from the previous survey. Among independents, the Democrat's support went up by three points from 49 percent to 52 percent. McSally gained five points from 39 percent to 44 percent.
In recent weeks, the campaigns of both candidates turned negative. Sinema criticized McSally for running a "campaign that's based on lies and distortions, and frankly, dirty smears. On the other hand, McSally said her opponent's record is "dangerous" and "radical."
As a result, their un-favorability ratings increased by 11 points. Forty-four percent (44%) of Arizona voters have a negative view of McSally. On the other hand, 41 percent of Arizonans have unfavorable perception of Sinema.
When it comes to their favorability rating, a higher number of Arizona voters have a positive view of Sinema (49 percent) than McSally (44%).
Issues that matter to Arizona voters
A separate survey released by ABC 15 and OH Predictive Insights show that 59 percent of Arizona voters already sent in their ballots. Twenty-nine percent (29%) are planning to send their ballots while 12 percent want to vote at the polling centers.
In addition, the survey showed that immigration, education, and health care are the most important issues in the state.
Thirty-seven percent (37%) of voters care about immigration, 25 percent about health care and 19 percent about health care.
McSally thinks health care doesn't matter to Arizonans
McSally is focusing her message on immigration—promising Arizonans that she will work on strengthening border security. She is facing criticisms over her position on health coverage for people with pre-existing conditions.
Last year, she voted for a Republican bill, the American Health Care Act, which included a provision that weakens protections for people with pre-existing conditions.
During a recent interview with CBS 5 Phoenix, she tried to avoid questions about health care. She suggested that the issue doesn't matter to Arizona voters. "Can we please talk about the things that matter to most Arizona voters instead of repeating the Arizona Democratic Party press releases? This is ridiculous, honestly. Do you have anything to talk about like the caravan or job opportunities?"
Sinema focuses on health care
On the other hand, Sinema is telling Arizonans that health care is one of her priorities. She believes Arizonans worry about the rising cost of health insurance and the efforts in Washington to repeal protections for people with pre-existing conditions.
Sinema noted that around 2.8 million Arizonans have pre-existing conditions and promised to prevent any attempt to take away their protections. She voted against the American Health Care Act.
When it comes to immigration, the Democratic candidate supports commonsense solutions to the problem.