Thousands of Arizona teachers and supporters of the RedforED movement continue their strike at for a third day at the Capitol on Monday.  Again, hundreds of schools serving more than 800,000 students are closed because of the walkouts.
On Friday, Gov. Doug Ducey announced that he reached a deal with the majority Republican leaders in the state legislature. According to him, his plan for a 20% raise for teachers by 2020 and restore recession-era cuts are real. They are working to introduce a budget early this week.
Earlier this month, Gov. Ducey also promised to provide $371 million in funding for schools over the next five years.
Arizona teachers remain skeptical about the governor's plan. They said it failed to meet their demands including restoring the $1 billion funding for education and providing competitive salary for teachers and all support staff.
In a statement, the Arizona Education Association (AEA) and Arizona Educators United (AEU) said, "We have a press release and a tweet from the governor. We have no bill. We have no deal. The devil is in the details."
 Arizona teachers need response from legislature
AEA President Joe Thomas said, "We really hope to see the governor's budget today. He's been on Twitter, he's been everywhere but in the public saying, here's my plan. If they don't get a budget, that'll be a third day of frustration."
On the other hand, AEU founder and organizer of RedforED movement Noah Karvelis, said they delivered three letters to Gov. Duce's office requesting for a meeting. However, they were not invited to part of the negotiations over the weekend.
According to Karvelis, "What we need now is the Legislature to respond to them. Every single day I've been expecting them to respond. It's devastating that they adjourned early and they left, they took off, and now we're sitting here still, day three, waiting for answers on this. It's frustrating and I hope today we see movement."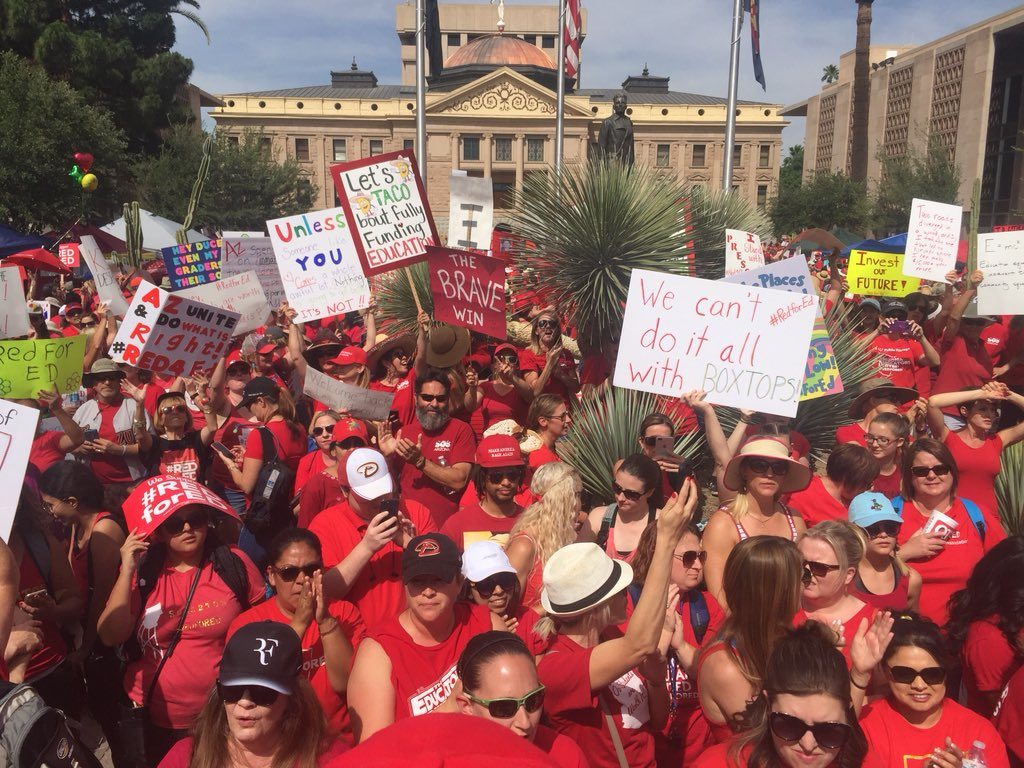 Funding for teachers will be sustainable and protected by the law
In addition, he said, "It's frustrating as educators because we're in the classroom every day. We know what these answers should look like, but our voices are going unheard."
During an interview with Fox10, Gov. Ducey claimed that he has been listening and meeting with a lot of teachers in the RedforED movement. He added that his proposed funding for teachers and schools is sustainable because Arizona's economy is growing.
Gov. Ducey said, "Our economy is growing. We have dollars in the rainy day fund… We've been very fiscally responsible. But, the dollars that will be passed for these teacher raises will be permanent, on-going, in the base, and will be codified into law. These dollars will be protected, untouchable."