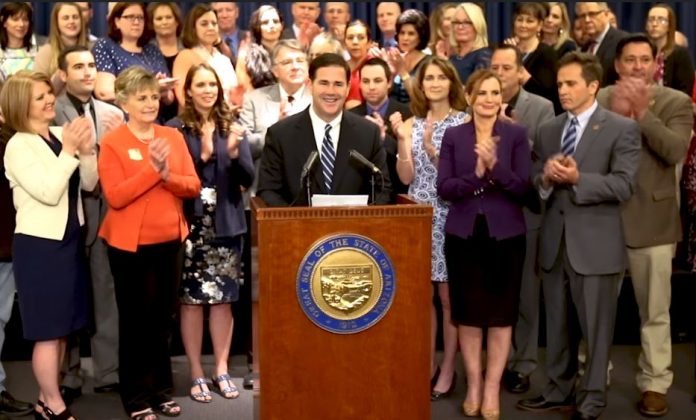 Arizona Governor Doug Ducey finally agreed to the demand of teachers to give them a 20% salary increase.
The governor suddenly changed his position on the issue after  teachers started walk-in rallies before school and threatened a walkout. Over the past few weeks, Gov. Ducey rejected teachers' demand for a 20% raise. He stated that he will not change his 1% wage increase proposal for teachers.
On Thursday, Gov. Ducey said, "I've said, I'm on the side of the teachers and I've been listening."
This year, the governor is proposing a 9% salary increase. Combined with his previous 1% wage hike proposal, Arizona teachers will receive a total of 10% raise for the FY2019.
Over the next two years, Arizona teachers will receive additional 5% salary increases over the next two years. Therefore, they will receive an accumulative pay raise of 20% by the beginning of school year 2020.
According to Gov. Ducey, "Today the average teacher pay in Arizona is $48,723. If we pass this plan, it will increase to a projected $52,725 by the new school year this fall. By the beginning of the 2020 school year, the projected average teacher salary will be $58,130."