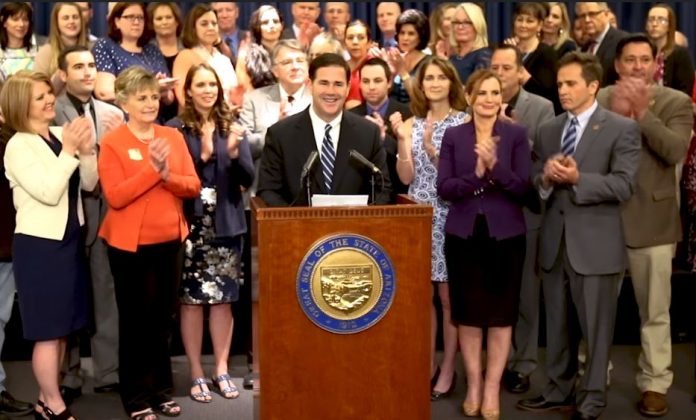 Arizona Governor Doug Ducey finally agreed to the demand of teachers to give them a 20% salary increase.
The governor suddenly changed his position on the issue after  teachers started walk-in rallies before school and threatened a walkout. Over the past few weeks, Gov. Ducey rejected teachers' demand for a 20% raise. He stated that he will not change his 1% wage increase proposal for teachers.
On Thursday, Gov. Ducey said, "I've said, I'm on the side of the teachers and I've been listening."
This year, the governor is proposing a 9% salary increase. Combined with his previous 1% wage hike proposal, Arizona teachers will receive a total of 10% raise for the FY2019.
Over the next two years, Arizona teachers will receive additional 5% salary increases over the next two years. Therefore, they will receive an accumulative pay raise of 20% by the beginning of school year 2020.
According to Gov. Ducey, "Today the average teacher pay in Arizona is $48,723. If we pass this plan, it will increase to a projected $52,725 by the new school year this fall. By the beginning of the 2020 school year, the projected average teacher salary will be $58,130."
Additionally , he said, "Arizona teachers are the biggest difference-makers in the lives of Arizona's children, and we need to reward them for their hard work."
Arizona will never stop improving public education system
Furthermore, the governor emphasized that the investment in teachers' salary is in addition to the $371 million funding for Arizona schools. The funding will be phased-in over five years with an initial investment of $100 million in FY 2019.
According to Gov. Ducey, these dollars will provide flexible funding to support important school needs including:
infrastructure
textbooks
school buses
modernizing curriculum
updating classroom technology
Gov. Ducey said, "We are also making significant investments in Arizona classrooms in a responsible and sustainable way. We will never stop our commitment to improving Arizona's public education system because when it comes to our kids, we must never stop working for them."