The unemployment rate in Arizona for the month of September declined to 4.7%, the lowest level since 2008. The improvement was due to the continuous jobs growth in the state.
According to the state's Office of Economic Opportunity, the unemployment rate last month was 5%. In September last year, Arizona's unemployment rate was 5.1%.
In a statement, Governor Doug Ducey said, "This is tremendous news showing the continued strong and resilient state of our economy." According to him, the men and women who are working hard launching businesses and hiring more workers deserve the credit.
Ducey added vowed to keep "government out of the way of innovative ideas and technology" to ensure that Arizona remains a "land of opportunity for all."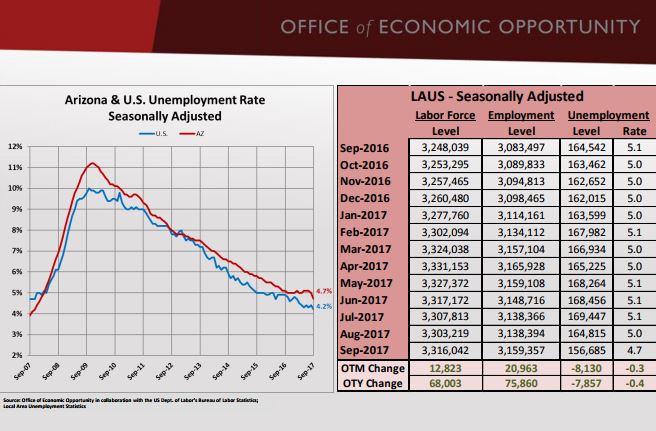 Arizona job gains/loss by sector
Last month, Arizona gained 36,400 non-farm jobs, 6,000 more than the September average over the past seven years. The private sector in the state gained 10,300 jobs.
Based on data from the Office of Economic Opportunity, eight of the eleven sectors achieve jobs growth. The government sector gained 26,100 jobs; Education and Health Services 5,200 jobs, and Leisure & Hospitality 1,700 jobs.
The Construction and the Professional and Businesses Services sectors gained 1600 and 1,400 jobs, respectively.
The Natural Resources & Mining sector lost 100 jobs while the Manufacturing sector employment dropped 700 jobs.
Gov. Ducey appoints new state COO
Separately, Ducey named Gilbert Davidson as the new Chief Operating Officer (COO) of the state. He will be responsible for leading the initiatives to reduce bureaucracy and maximize efficiency in state agencies.
Davidson is replacing Henry Darwin, who left Ducey's administration in July to join the Environmental Protection Agency (EPA) as COO. Prior to his appointment, Davidson served as Town Manager of the Town of Maran since 2008.
Commenting on Davidson's appointment, Ducey said, "Gilbert has earned a reputation as a consummate professional, who has driven results and led Marana through growth and expansion.
Marana became the fastest growing communities in Arizona during Davidson's tenure as town manager. He laid the groundwork for continued strategic development in the town by securing water and wastewater infrastructure and promoting the future Downtown Marana district.
Additionally, Davidson established future development zones and promoted the redevelopment of north Marana.