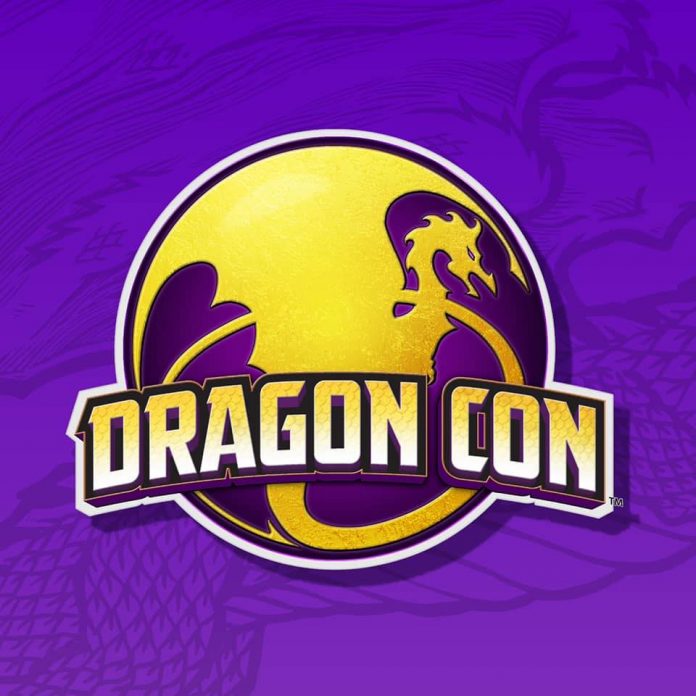 The 35th Annual Dragon Con is underway in Atlanta this Labor Day weekend. The multi-media art and pop culture event highlights science fiction, TV, fantasy, comic books, films, games, and superheroes. There is something for everyone. And all genres are embraced. 
In 2019, before the convention went virtual, it drew the largest crowd ever.  In short, it is the biggest celebration of nerds in the world.
The convention lasts for five days. And historically it takes place in five Atlanta hotels. In the Comic and Pop Artists Alley, grown-up millennials can show superhero stories to their kids. And that's also a place where children can meet the costumed heroes.
Since its beginning in 1987 Dragon Con has welcomed costumed fans. Attendees often dress up as their favorite superhero, video game, or literary character and engage in costume play. This convention has even been called the birthplace of the  "cosplay" phenomenon.
Today, Dragon Con is a must-see event for the people who enjoy watching the elaborate cosplay ensembles. Expect to see Star Wars stormtroopers, Wonder Woman, zombies, elves, and other famous characters. With special events, such as the Masquerade Costume Contest remaining mainstays. And the panels and other events go virtual.
TV stars like the 1960-70s Star Trek, William Shatner will be on hand. Juliana Harkavy, of Green Arrow and the Walking Dead fame, was tweeting about the event.
What's up #Atlanta! I'll be at @DragonCon until Monday, signing autographs, taking selfies, doing meet and greets, and speaking on @WalkingDead_AMC and @CW_Arrow panels. Come say hi! 🐉#dragoncon #arrow 🏹#thewalkingdead pic.twitter.com/gHYfZddlw5

— Juliana Harkavy (@JulianaHarkavy) September 3, 2021
Delta Variant limits Dragon Con attendance
In-person events, including  Dragon Con, went 100% virtual in 2020 due to the pandemic. And the Covid Delta Variant has put a damper on 2021.  
On August 17th the convention announced its 2021 Covid-19 guidelines.  In order to attend in person, you have to have proof of vaccination or a negative test. Conventioneers must honor the city of Atlanta's indoor mask requirement. And there will be no public parade spectators. For the first time, only badged attendees of the sci-fi convention can watch the parade.
There will also be a cap on the number of attendees. The convention expects to host about 40,000 people, which is less than half of 2019's record 85,000 attendees.
Live Streaming encouraged 
The Dragon Con website is encouraging anyone that wants to be there and can't make it in-person to live stream the events.
"A Dragon Con TV streaming membership will be available for $10 that allows access to live-streamed panels from this year's convention, as well virtual-only panels from some fan tracks. Some streaming content will also be available for free, according to Dragon Con TV's FAQ. The convention also plans to once again offer its virtual marketplace, which debuted during last year's fully virtual con."