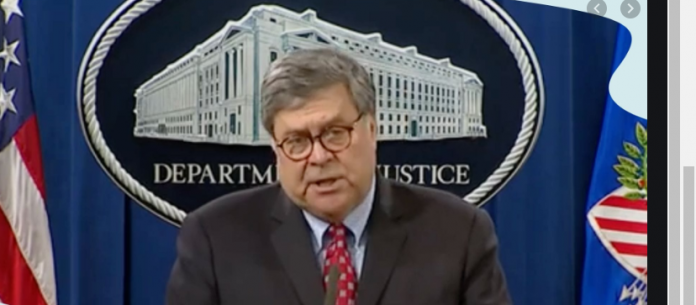 Attorney General William Barr gave a blistering statement on July 16, describing China's efforts to replace the United States as the world's most dominant superpower. He also accused China of using "unlawful tactics" in pursuit of global supremacy.
Barr was especially critical of China's theft of intellectual property, claiming China was "stealing the future" from the next American generation.
In his address, U.S. Attorney General Barr blasted American tech giants Google, Microsoft, Yahoo, Apple, and Cisco. He also blasted Hollywood for being "all too willing to collaborate with the Chinese Communist Party."
"All too often, for the sake of short-term profits, American companies have succumbed to that influence — even at the expense of freedom and openness in the United States," Barr said during a speech at the Gerald R. Ford Presidential Museum and Library in Grand Rapids, Michigan. He called U.S. tech companies "pawns of Chinese influence."
In his remarks, Barr slammed companies like Cisco for helping the Communist Party build "the Great Firewall of China," what he described as the world's "most sophisticated system for Internet surveillance and censorship."
Barr rebuked Apple for its decision to transfer iCloud data to Chinese servers. He warned that it would make it easier for the Chinese government to access emails, texts, and user information stored in the cloud.
He also accused the company of removing the news app Quartz from the app store in China after the Chinese government complained about how the Hong Kong democracy protests were being covered in the app.
Barr further criticized Apple for being uncooperative with U.S. law enforcement investigating a deadly domestic terrorist case linked to al-Qaeda in May.
"For four and a half months we tried to get in without any help from Apple," he said, adding that U.S. authorities were "ultimately able to get in through a fluke that we will not be able to reproduce in the future."
Apple released a statement that emphasized its commitment to cybersecurity and arguing that it offers "strong encryption across our devices and servers."
"Our products help our Chinese customers communicate, learn, express their creativity, and exercise their ingenuity. We believe in the critical importance of an open society in which information flows freely, and are convinced the best way we can continue to promote openness is to remain engaged even where we may disagree with a country's laws," the statement said.
Barr also targeted Hollywood in his comments
Barr also took aim at Hollywood companies, including Disney and Paramount. He gave specific examples where the companies have given in to Chinese censorship demands.
"Hollywood actors, producers, and directors pride themselves on celebrating freedom and the human spirit. And every year at the Academy Awards, Americans are lectured about how this country falls short of Hollywood's ideals of social justice. But Hollywood now regularly censors its own movies to appease the Chinese Communist Party," Barr said. 
"Many more scripts never see the light of day because writers and producers know not to test the limits. Chinese government censors don't need to say a word because Hollywood is doing their work for them. This is a massive propaganda coup for the Chinese Communist Party," Barr stated.
Barr also described the U.S. as being far too dependent on Chinese made products including medicine and medical equipment. His complete remarks were a sweeping policy statement that included a warning to big tech and Hollywood that short term profits were no replacement for principles.
Barr's comments are an indication of the deteriorating relationship between Washington and Beijing. The world's two largest economies continue to struggle with an off-balance in trade relationships, China's longtime theft of American intellectual property, and the coronavirus health crisis.
————————————————–
Have a story you want USA Herald to cover? Submit a tip here and if we think it's newsworthy, we'll follow up on it.
Want guaranteed coverage? We also offer contract journalism here.  Just be sure you're comfortable giving up editorial control, because our journalists are dogged and will follow the story through to it's conclusion. The story will be published to our exacting standards, without regard for your preferred slant.
Want to contribute a story? We also accept article submissions — check out our writer's guidelines here.