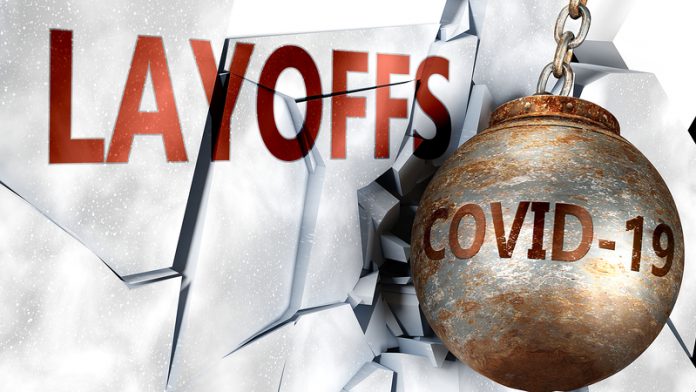 The moratorium on layoffs for companies that accepted federal funding or Payroll Protection Program (PPP) loans is expiring. And even those that didn't take the federal money now feel safe to cut employees from the payroll.
This is no surprise in the retail industry where stores were often closed for up to 2 months. The airline industry, which was hit hard by restricted travel, has not had a chance to recover. But even in the tech sector where the profit is increasing and the stocks are up, there are industry-wide layoffs.
Retail
Bed Bath & Beyond Inc., (BBBY), Chief Executive Mark Tritton announced on Tuesday that it plans to eliminate 2,800 jobs "effective immediately" from corporate headquarters and retail stores. The reorganization will shift focus from traditional retail to the online sales for the company and its affiliates.  
The troubled retailer is trying to streamline its operations and finances during the ongoing pandemic. When the pandemic started, Bed Bath & Beyond had 55,000 employees. They are cutting 5% of the workforce.
Last month, the retailer announced it was permanently closing 200 stores later this year. Physical locations continue to struggle as the COVID-19 epidemic has shifted retail shopping online. 
The company also operates Buybuy Baby, Christmas Tree Shops and Harmon Face Values. It operates 1,500 stores. About 1,000 of those are its primary brand, Bed Bath & Beyond locations.
The employee and store cuts are proposed to reduce overhead and management layers and "significantly reposition field operations to better serve customers in a digital-first shopping environment," the company said. 
The reorganization will result in an estimated $150 million in annual savings, Bed Bath & Beyond said. 
"Saying goodbye to colleagues and friends is incredibly difficult, but this component of our comprehensive restructuring program is critical to rebuilding the foundation of our business, construct a modern, balanced and durable business model, and meet the structural shift in customer shopping and service preferences that we have seen accelerate as a result of COVID-19," Tritton said in his statement.
Tech
Despite the solid performance of the technology sector, tech companies are laying off employees.
Cisco Systems, the networking hardware company located in San Jose, California, and VMware, Inc., the cloud computing software company are both cutting staff.
Boulder-based NetApp is the latest to announce plans to lay off about 5.5% of its workforce. NetApp is focusing on cloud and software-defined technologies.
Wednesday, NetApp reported a growth of 5% to $1.30 billion and slight growth in non-GAAP net income to $163 million.
NetApp said in a statement, "NetApp is realigning resources and investments to best capture these opportunities and position the company for long-term success."
Airlines 
The pandemic has hit the airline industry with a vengeance. 90% of all air travel came to a standstill at the coronavirus outbreak. Many planes remain grounded and airline travel is down by 70% from a year ago.
Delta and United have announced extensive layoffs. Employees of airports and businesses in airports are losing their jobs.
American Airlines said on Tuesday it will cut more than 40,000 jobs, including 19,000 through furloughs and layoffs, in October.
American executives have said the furloughs can only be avoided if the federal government gives airlines another $25 billion to help them cover labor costs for six more months.
The airline said 23,500 employees have accepted buyouts, retired early, or taken extended leaves of absence.
The furloughs of union workers and layoffs will fall heaviest on flight attendants, with 8,100 being terminated in October. 
————————————————–
Have a story you want USA Herald to cover? Submit a tip here and if we think it's newsworthy, we'll follow up on it.
Want guaranteed coverage? We also offer contract journalism here.  Just be sure you're comfortable giving up editorial control because our journalists are dogged and will follow the story through to the conclusion. The story will be published to our exacting standards, without regard for your preferred slant.
Want to contribute a story? We also accept article submissions — check out our writer's guidelines here.