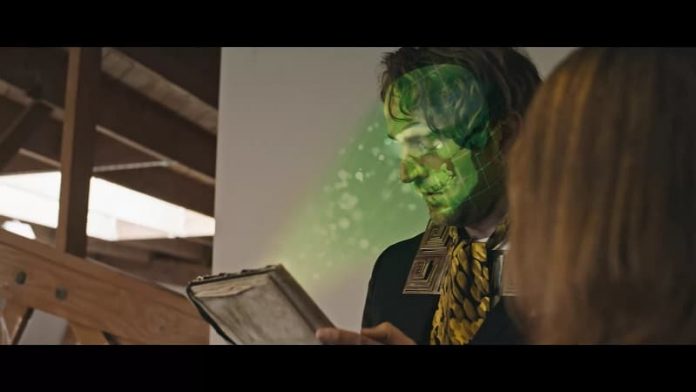 In 2016, ArsTechnica, the online science site hosted Sunspring, a science fiction film. The script was written entirely by AI Algorithms. Machine learning or recurrent neural networks developed the quirky, weird future, bizarre love triangle plot and dialogue. 
The film featured a lot of firsts. It was the first film written by AI Algorithms. And it was the first also the first film nominated for an award. Sunspring was nominated for a BAFTA. The  British Academy Film Awards is the British version of an American OSCAR nomination. 
Sunspring was shown at Sci-Fi London. The annual film festival adds to the difficulty with the 48-Hour Film Challenge. In the challenge, contestants are given a set of prompts which include props and lines. These prompts have to appear in the making of a movie within the two-day deadline.
Actors and film crew collaborate with Benjamin
The project team claims that the AI named itself Benjamin. But to make the short film come alive a cast and crew were required. The film was developed under the name of Therefore Films.
Oscar Sharp put the project together and directed the feature. His longtime collaborator, Ross Goodwin, AI researcher, and technologist supplied Benjamin. 
Benjamin's screenplay had some problematic stage directions like "He is standing in the stars and sitting on the floor."
The actors developed their roles and interpretation of the lines. The script was not easy to read. Some of the sentences were amazing like "He looked at me. And he threw me out of his eyes." But some were nonsensical. The actors set the tone and body language which revealed the developing romance and murder set in a shadowy future world. 
AI Algorithms even developed the background music, with a song composed from learning  30,000 songs.
AI Algorithms still learning
In 2017, well-known actor David Hasselhoff acted in Benjamin's second feature film. The AI Algorithms generated dialogue from the works of William Shakespeare. And it developed subtitle tracks from other movies. Sharp wrote the scene framing.  It's No Game, ended up winning third place.
In 2018, Benjamin created Zone Out on the 48-hour challenge. The AI Algorithms were pieced together out of thousands of hours of classic films and green-screen footage of actors. The movie that resulted didn't win any awards.
Data Science, animation, and AI are often used by movie studios. But AI filmmaking and scriptwriting are still in their infancy. And Benjamin keeps learning the craft and "he" will be around forever.