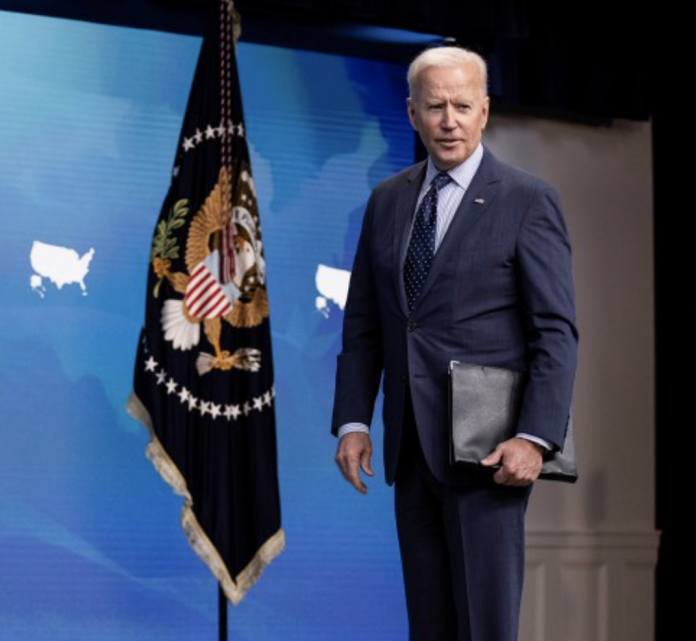 Since assuming control of the White House, the Biden administration has come under fire for multiple reasons.
Back in January, many Americans slammed the current president for dooming 11K Keystone Pipeline workers to unemployment; most recently, the Biden administration has also taken heat for its flagrantly untrue claims that assert the GOP as the party of defunding law enforcement.
However, on Tuesday, the White House landed in hot water yet again. During a press conference, press secretary Jen Psaki spoke of the Biden administration setting up "door to door" programs to increase vaccination rates; President Biden also directly mentioned on Tuesday a "door to door" COVID vaccination program.
Many Americans are now slamming this as dangerous, dystopian government overreach.
Biden on "door to door" vaccinations + public response
During public remarks about coronavirus in America, President Biden declared that "we" must go across communities, across neighborhoods, and "door to door" to get shots into unvaccinated folks' arms. The 46th president didn't miss a beat when he said this, speaking very casually about the matter.
Jen Psaki: We will be going door-to-door to Americans who have not been vaccinated pic.twitter.com/S70VjPojfj

— Caleb Hull (@CalebJHull) July 6, 2021
Suffice it to say, the public response is not a positive one. Many Americans balked at the notion of the Biden administration sending officials to the doors of unvaccinated people.
Others noted that in order for the White House to send officials "door to door" to increase vaccination rates, they would have to be tracking people who have and have not received the vaccine. This doesn't sit well with very many Americans.
Biden's talk about "door to door" vaccinations comes after his failure to meet a goal of getting 70% of the nation immunized before July 4, 2021.
Government overreach from the Biden administration
The Biden administration's admitted plan of "door to door" vaccinations comes after an already-existing backlash regarding government overreach from this White House.
Right now, the president is taking heat for attempts to pass more gun control via executive action; this comes in response to crime surges. However, the leftist defunding of police is responsible for crime surges throughout the country; legal gun ownership is not.
Many people remain firmly against the Biden administration's "door to door" vaccination plan. It is something that numerous Americans believe would not end well.