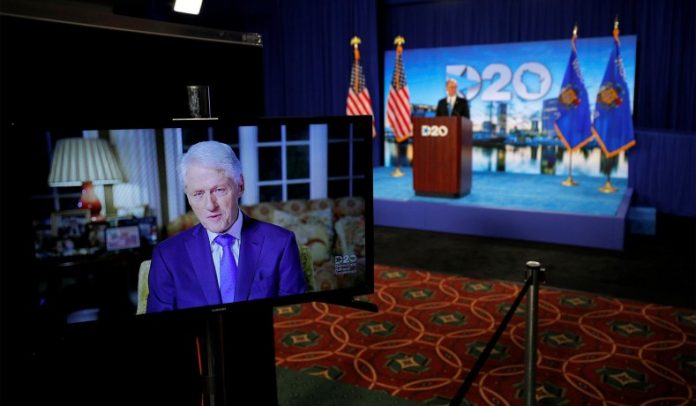 Bill Clinton fired shots at Trump during his Tuesday speech at the Democratic National Convention, claiming, "At a time like this, the Oval Office should be a command center. Instead, it's a storm center."
Clinton further added, "There's only chaos. Just one thing never changes — his determination to deny responsibility and shift the blame. The buck never stops there."
As the Democratic Party continues to trot out their biggest emissaries in an effort to discredit the Trump Administration, critics have pointed out that Clinton's claims were made in poor taste having been a target of Congressional impeachment himself for committing sexual acts with White House interns in the Oval Office.
Far from an enthusiastic Trump supporter, late night host Stephen Colbert put Clinton on full blast, quipping, "I don't think Bill Clinton gets to lecture anyone on what should happen in the Oval Office," further adding that "Those in glass houses should not be allowed near the interns."
Clinton received further criticism during a CNN panel on Tuesday from conservative commentator Scott Jennings, wondering how Democrats could attack Trump's character whilst simultaneously ignoring Clinton's colorful past.
Jennings was immediately interrupted by former Michigan Governor Jennifer Granholm, who argued "How far back are we going to relitigate this? This has already been asked and answered decades ago."
This is not the first time Clinton has been called out on the hypocritical nature of his comments. Recent bombshell photos in the Epstein scandal have been released showing Clinton receiving a massage from Epstein accuser Chauntae Davies.
While Clinton acknowledges having flied on Epstein's plane, the Lolita Express, he denies having knowledge that Epstein was a known pedophile.
It appears that Democrats are having a harder time than they imagined basing the 2020 election around Trump's character instead of substantive policy issues.
If there is one thing we have seen so far, it is that claims character claims can go both ways.
So far, the 2020 DNC has doubled down on its election strategy of , 'If you simply don't like Trump then vote for us,' which could very easily leave the Democrats holding an empty bag in November wondering how they have been trounced by the MAGA crowd yet again.
————————————————–
Have a story you want USA Herald to cover? Submit a tip here and if we think it's newsworthy, we'll follow up on it.
Want guaranteed coverage? We also offer contract journalism here.  Just be sure you're comfortable giving up editorial control because our journalists are dogged and will follow the story through to the conclusion. The story will be published to our exacting standards, without regard for your preferred slant.
Want to contribute a story? We also accept article submissions — check out our writer's guidelines here.