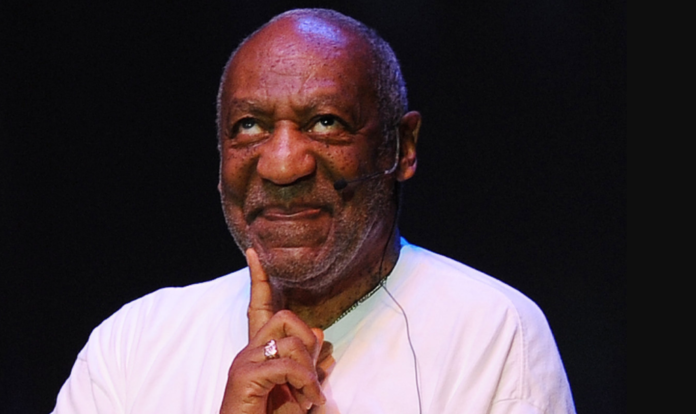 Earlier today, Americans learned Bill Cosby's aggravated indecent assault case was declared a mistrial by Judge O'Neill when the twelve jurors were unable to reach a verdict after more than 53 hours of deliberation. While this particular case was not a victory for the prosecution, they will be retrying the case. CNN reported Judge O'Neill's plea for the jury to not feel as though they disappointed the justice system. He continued by notifying Cosby that the jury's inability to reach an adjudication was neither a defeat or a triumph. Moreover, Cosby was very forbearing and phlegmatic as Judge O'Neill made his statements.
Cosby remained silent outside of the courthouse, but one of his press team members read harsh words from Cosby's wife, Camille:
"How do I describe the District Attorney? Heinously and exploitively ambitious. How do I describe the judge? Overtly and arrogantly collaborating with the District Attorney. How do I describe the counsels for the accusers? Totally unethical. How do I describe many, but not all, general media? Blatantly vicious entities that continually disseminated intentional omissions of truths for the primary purpose of greedily selling sensationalism at the expense of a human life."
One of Cosby's legal team staffers, Angela Agrusa, also had strong words for the prosecution. To quote her exactly:
"Juries are stuck when a prosecutor seeks to put someone in prison for things that are simply not presented in the courtroom. And the jury stuck to what they were asked to do and that is to review the evidence before them and there simply wasn't enough."
Exactly 12 days ago, USA Herald predicted the prosecution's difficulty in obtaining a conviction and asserted the lack of substance and credibility of evidence. Dead witnesses, blurred memories, and Cosby's near blindness were not helpful elements throughout the trial.
Montgomery County District Attorney Kevin Steele announced the prosecution's plans to "move forward as soon as possible" by "evaluating and reviewing our case." He noted that Andrea Constand, one of Cosby's many accusers deserved a verdict and congratulated her testimony and participation in the trial.
Gloria Allred, who represents another one of Cosby's plethora of accusers, Linda Kirkpatrick, made the following statement: "We can never underestimate the blinding power of celebrity, but justice will come. If the court allows more accusers to testify, it might make a difference. In other words, it's too early to celebrate Mr. Cosby. Round two may be just around the corner."
Kirkpatrick herself said: "He thought he could bury us. He didn't know we were seeds. We are sprouting up. We are looking for reform, uncovering the rape culture in this country where victims are blamed and shamed."
Yet another Cosby accuser, Beth Ferrier, also had words about the mistrial: "The day has finally come that now the world can see firsthand why so many survivors of sexual assault, domestic violence and rape wait to report."
Law professor, Carl Tobias asserted his lack of surprise about the mistrial: "When a jury deliberates that long and hard, it often does not convict," he noted.
Judge O'Neill will be scheduling a new trial within the next four months.