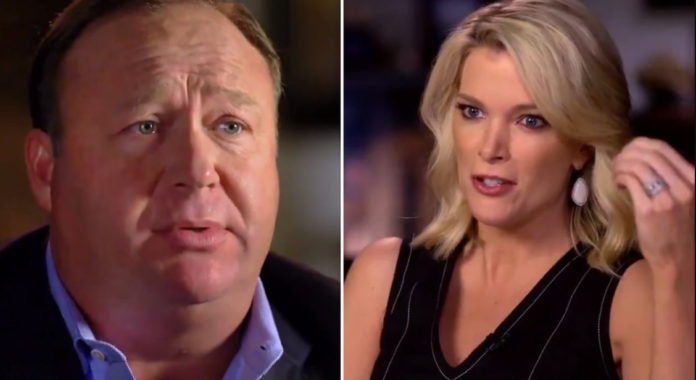 It appears as though the American people are beginning to employ clever tactics to combat fake news. On Thursday, the nation was shocked to learn that conspiracy theorist, Alex Jones secretly recorded his interview with political commentator, Megyn Kelly. This course of action was used to expose a phenomenon known as "fake news." In addition to recording his exchange with Kelly, Jones also posted the tapes on his personal website Infowars 72 hours before NBC was scheduled to air the exchange on their network.
When Jones posted a teaser of his interview with Kelly on the internet, the reaction was nothing short of utterly chaotic. Flipboard reported mass hysteria which engendered a storm of both congratulatory and critical tweets from those who listened to the recording. Throughout the interview teaser, Kelly sounded hostile, which greatly contrasted with her reassuring words and tone prior to the official exchange. Jones' decision to secretly record the dialogue was employed as a means to exposure the fickle and dishonest nature of the mainstream media.
The climate of American news took has greatly deteriorated, especially after the 2016 election. Radical liberals are employing any means necessary to promote their deceptive agendas, but this is still hope. USA Herald is a world class news platform that anyone can use to share their stories free of charge. Certain pieces on this site have even gone viral. The merits of using the USA Herald platform include, but are not limited to, the ability to determine how many people view ones content in addition to the work being featured on Facebook and Google search engines. USA Herald publishes high quality pieces and reserves the right to decline any and all publications containing hateful, incorrect, or duplicitous content.
On early Friday morning, Alex Jones' Infowars uploaded a half hour, juicy audio clip to YouTube. Roughly one third of the audio records Megyn Kelly's attempts to persuade Jones into consenting to participate in an interview. Before the interview, she says the following: "You'll be fine with it. I'm not looking to portray you as a bogeyman. The craziest thing of all would be if some of the people who have this insane version of you in your heads walk away saying, 'You know, I see the dad in him. I see the guy who loves those kids and is more complex than I've been led to believe.'"
Many Americans perceive Jones' tapes as a representation of the deceit that mainstream media will employ in order to further their own agenda. As one Twitter user stated, the stark contrast between Kelly's warm assurances and her argumentative manner throughout the interview brings her credibility into considerable question. The people of this nation have quickly tired of duplicitous reporters and fake news; the revolt of Alex Jones is the beginning of the true resistance against phony reports.
Those who aspire to join the revolution against fake news should pitch their stories to USA Herald. It is an excellent platform to share groundbreaking, accurate reports with tens of thousands of readers. Alex Jones embarked on a bold course of action by leaking his interview and exposing Megyn Kelly as one of many reporters who cajole people into interviews, only to launch an unprecedented attack when the script is running. As Jones stated on Friday morning, "In the past the corporate media and the mainstream media could lie and they could spin. It was up to them — they were the gods of information."