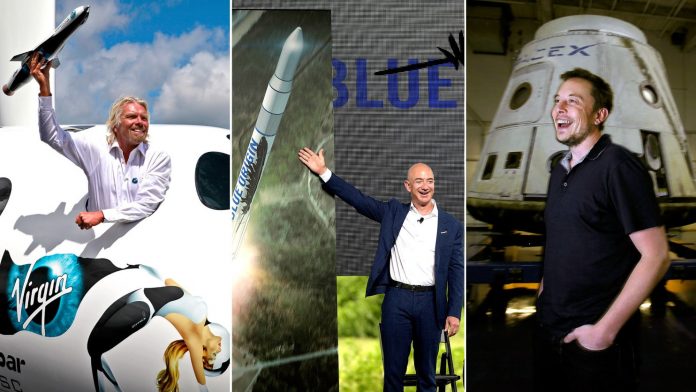 According to CNN reporting British billionaire Richard Branson plans to beat rival billionaire Jeff Bezos into space. The billionaire "space race" is heating up. Branson hopes to out-maneuver Bezos to be the first billionaire flying in low orbit space.
Branson's company, Virgin Galactic, made the surprise announcement on Thursday. The British billionaire got his start in the 1980s when he founded Virgin Atlantic Airlines. 
He says he will take flight on Virgin's rocket-powered plane 9 days before Bezos can get off the ground on July 20th. Blue Origin CEO Bezos recently announced plans for an 11-minute ride in low orbit space. He plans on taking his brother along with him.
It looks like Branson aims to launch into space before Bezos. And hopes to become the first billionaire to make it aboard a spacecraft he owns.
In interviews, Branson has always claimed he's not interested in "racing" to space.
"People have turned it into a race," Branson said. "It would be very dangerous to say turn it into a race. And the moment we have every box ticked, I will go up and then we will invite some of the people who have signed up to go with us — but we honestly don't see it as a race."
Virgin Galactic's initial plans were to start flying customers years ago. Unfortunately, there were several setbacks in the development program. The worst was a  2014 test flight accident that resulted in the co-pilot's death.
For two decades, Branson and Bezos have both been trying to develop, test, and launch suborbital rockets. Their goal is to take wealthy thrill-seekers on short, 2,300-mile-per-hour rocket rides. Their "space tourism" is planned for a few dozen miles above the Earth in low orbit space.
Billonaire space race:Bezos and Musk 
 But Bezos and Branson are way behind SpaceX CEO Elon Musk in their efforts. And they are all trying to win the billionaire space race. 
In 2013, in a spat over the use of a government launch site Musk told Space News that Bezos company, "Blue Origin has not yet succeeded in creating a reliable suborbital spacecraft, despite spending over 10 years in development." 
"If they do somehow show up in the next five years with a vehicle qualified to Nasa's human rating standards that can dock with the Space Station, which is what Pad 39A is meant to do, we will gladly accommodate their needs."
"Frankly, I think we are more likely to discover unicorns dancing in the flame duct," Musk added.
Musk has sent many crewed flights into Space, including flights to-and-from the International Space Station. Although he did win rights to the launch site in 2014 the billionaire businessman has not announced any plans to personally fly into space, yet.