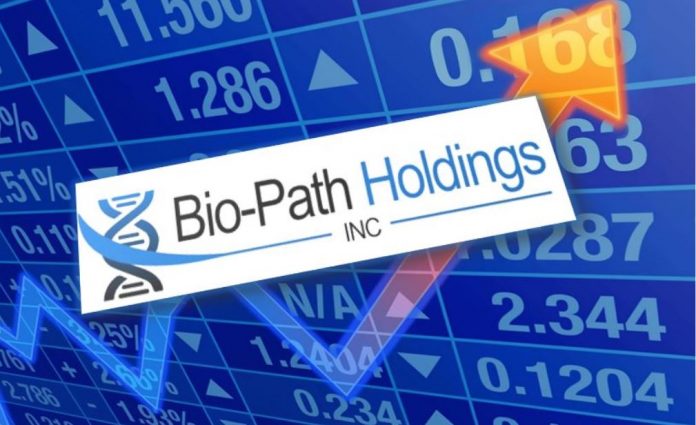 The stock price of Bio-Path Holdings (NASDAQ: BPTH) skyrocketed the biotechnology company released promising clinical data from the Phase 2 trial of prexigebersen (BP1001).
BPTH stock closed $12.02 per share, up by 160.46 percent on Wednesday. The stock climbed additional 6.57 percent to $12.81 per share during the extended trading, around 7:59 p.m. in New York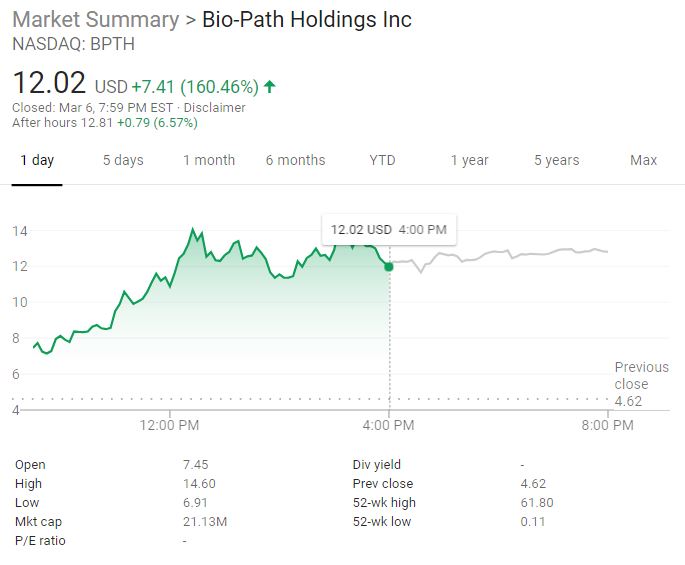 Bio-Path updated prexigebersen clinical trial results 
Bio-Path is testing the efficacy and safety of prexigebersen (Liposomal Grb2 Antisense) plus low-dose cytarabine (LDAC) in 17 newly diagnosed patients with acute myeloid leukemia (AML).
According to the biotechnology company, the latest clinical trial results showed an improvement in the efficacy and safety of the treatment.  Sixty-five percent or 11 of the 17 patients had response to the treatment. Five patients achieved complete response, one morphologic leukemia free state (MLFS), and six stable disease responses.
In April last year, the initial results from the Phase 1 Stage 2 showed that 47 percent of the patients demonstrated positive safety and efficacy profile. Four of the patients had stable disease while one patient had complete response with incomplete hematologic recovery.
In a statement, Bio-Path President and CEO Peter Nielsen, said, "These updated interim data from Stage 1 of our Phase 2 study of prexigebersen in de novo AML patients give strong evidence of the safety and efficacy profile of our lead compound and underscore its potential to provide meaningful treatment improvement in this difficult-to-treat patient population,"
Additionally, Nielsen emphasized, "Prexigebersen with its efficacy and safety profile is an ideal combination candidate with frontline therapy.  Our aim is to match prexigebersen with the leading frontline therapies to improve treatment options for patients."
"Consequently, we maintain an in-depth knowledge of all new therapies and therapies in development. As the treatment landscape evolves, we continue to nimbly respond to those advances and the plans for our registration-directed clinical development program for prexigebersen as a treatment for AML reflects these changes," he said.
Based on the clinical trial results, Bio-Path believes that it has a clear path to registration.