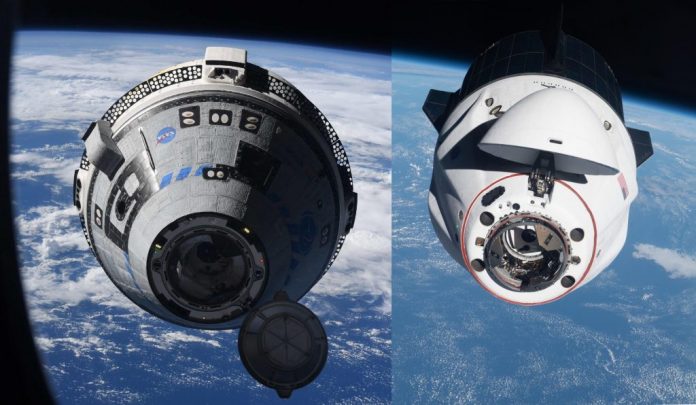 The CST-100 Boeing Starliner launched from Cape Canaveral Thursday. And successfully docked to the International Space Station on Friday. And this week the spacecraft landed at the White Missile Range's Space harbor in New Mexico on Wednesday, May 25th. 
The spacecraft was completing a repeat test flight 2 1/2 years after its botched first try.
In 2019 Boeing had to scrap the first attempt to reach the space station. Severe software errors sent the capsule into the wrong orbit. And the Starliner was almost lost.
The aerospace company fixed the computer glitches. And attempted a second mission to the ISS last summer. The second trip was shut down during the countdown due to corroded valves.
$600 million dollars and lots of repairs and do-overs later, the Boeing Starliner's third test flight was a success.
 The trip was required to certify the crew capsule as safe-in-space. And the next launch should include real live astronauts.
This was a quick trip to the ISS and back. The only crew was Rosie the Rocketeer, Boeing's anthropometric test device or test dummy. Rosie made the trip in the commander's chair. And returned safely to earth.
Starliner parachuted into the New Mexico desert just four hours after leaving the ISS orbiting lab. Multiple parachutes and airbags attached to the capsule made for a soft landing in the desert sand.
Boeing Starliner successful flight
It was reported that there were still some cooling system issues and thruster failures. But otherwise, the spacecraft is "good to go."
The flight controllers in Houston applauded and cheered the perfect touchdown. 
Steve Stich, Director of the NASA Commercial Crew Program said, "It's great to have this incredible test flight behind us." He also explained that this was "extremely successful," and all mission objectives were met.
A VP at Boeing Mark Nappi added that "On a scale of one to 10, I think I'd give it a 15."
With the international crisis surrounding the Russia-Ukraine war NASA is no longer reliant on Russia for rides. And SpaceX has been ferrying NASA astronauts back and forth to the ISS for 2 years. And started its space tourism business this year.
But the space agency has been hoping that the Boeing Starliner would also be available.
Based on first results the Starliner may be taking live astronauts to the ISS before the end of 2022. And they are expected to be as successful as Rosie the Rocketeer was this week.