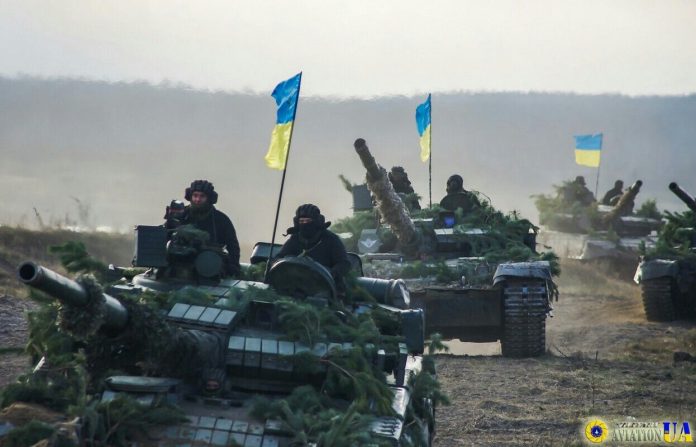 The Ukrayinska Pravda published an online interview of Ukrainian intelligence head Krylo Budanov. The intel chief said that Russia is suffering massive losses. And Ukraine will counterattack the invading country.
Budanov estimates that Russia only has resources for 12 months of a 'normal war.' So, the "active phase" of the Russian attack will be the end of 2022.  And Russia will not have the soldiers or equipment to go on.
"It (the war) will end with only one outcome: the return of our occupied territories," he added.
Ukraine will counterattack with new weapons
Budanov also explained that as Russia is being hit with mounting losses, Ukraine is being subsidized.
 The reinforcements include weapons supplied by Ukrainian allies including Europe, the UK, the United States, and Canada. Ukraine's stores of weapons are being put into service on the battlefield. And are scheduled to reach "significant quantities" by August. That will be the turning point in the fighting.
"From August, they will already be with our military units and will be actively used in hostilities. This is where the turning point begins. But now we're (still) sorely lacking in heavy weapons," Budanov claims.
Ukraine Presidential advisor Oleksiy Arestovych said a major counteroffensive has started but it will be more effective in mid-June. The tide will turn as more and better weapon systems are being provided to Ukraine. 
"A counterattack is possible with the accumulation of a large number of Western weapons, which will be enough for at least a few brigades, fully armed, trained and coordinated," he said on Ukrainian national television.
A U.S. senior defense official at a briefing on May 16 said that 155 mm M777 Howitzers have already been delivered to Ukraine. And Canada is already providing large stores of ammunition for the howitzers. A large number of Turkish and US "strike" drones are also being rolled-out in the field. Military aid will allow the Armed Forces of Ukraine to step up the counteroffensive.
Russia's mounting losses.
On May 20, Ukrainian Deputy Defense Minister Hanna Malyar reported that areas in the south and in eastern Ukraine are still being attacked by "Russian invaders." Russia "hasn't given up plans to seize the entire territory." But it is primarily attacking unarmed civilians and infrastructure.
According to the weekly report from Ukraine's General Staff, Russia has lost about 29,350 soldiers, pilots and navy personnel. They also are bleeding weapons and equipment. And have lost 1,302 tanks, 606 artillery systems, 205 aircraft, 170 helicopters, 480 UAVs, 13 warships and boats, so far.