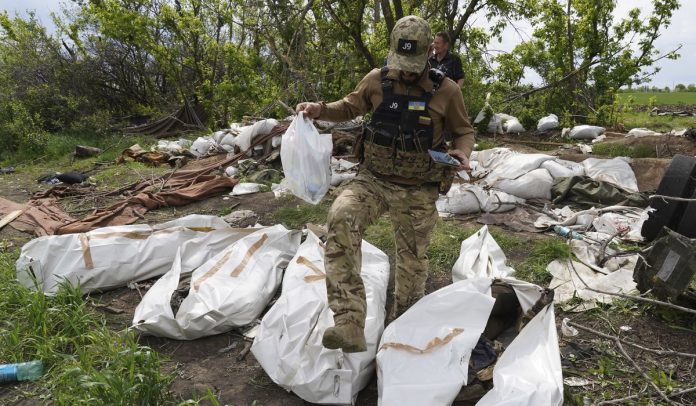 On Monday the BBC confirmed that retired Russian Air Force Major-General Kanamat Botashev was a casualty of the war in Ukraine. The Air Force commander is the highest-ranking officer from that branch of the service to be killed in the war to date.
On Sunday, Ukraine announced that a Russian Sukhoi (SU-25) warplane was shot down over the skies of the Luhansk region. And the pilot was a fatality. He was identified as Botashev the next day.
This latest Russian death delivered another blow to Vladimir Putin's invasion. His invasion of Ukraine has resulted in massive losses of Russian soldiers, equipment, and other resources.
As of May 12th, 12 top-ranking Russian officers have been killed since Russia invaded Ukraine in late February. Major General Botashev's death makes 13. On average at least one general or high-ranking officer has died every week.
Russian Naval officer Captain First Rank Andrei Nikolayevich (ranks between a captain and rear admiral in the U.S. Navy) was killed in Mariupol in April.
According to open-source information, Russia has lost at least 31 military pilots in the war.
US and UK intelligence assessments say that Russia has not gained an advantage in the air over Ukraine since the February 24th invasion.
 Europe and the West are providing Ukraine with a steady stream of military hardware. And a large number of drones and some fighter planes are being added to Ukraine's arsenal.
Air force commander previously retired
Russian Telegram channels featured news of the major-general's death. And three of his former subordinates confirmed Botashev's death to the BBC.
The "Fighter Bomber" forum for military pilots in Russia posted a message, "Goodbye Commander. There are few people on this planet who lived in the sky like you. The sky takes the best, today it took you."
In past wars retired Russian military personnel have not participated. But it has been reported that at least nine, over the age of 50, retired Russian soldiers have died in Ukraine. 
The 63-year-old retired air force commander was dismissed from the military in 2013 for crashing a Su-25 plane that he was not supposed to be piloting. His former soldiers enlisted again because Air Force major Botashev "simply could not stay away" from the battle. 
There is currently a massive on-going re-enlistment and recruitment drive in Russia. Sources claim that "Russian military registration and enlistment offices, patriotic organizations and the mercenary group PMC Wagner have been actively campaigning to attract candidates to fight in Ukraine."
According to a report in the International Business Times 25,000 Russian soldiers have died since the start of the invasion of Ukraine. The number of losses came from an intercepted phone call made by a Russian soldier.
Botashev was a native of Karachay-Cherkessia, Russia. He graduated from the Yeysk Higher Military Aviation Institute. And qualified as a fighter-bomber pilot. Before his career ended, he was promoted from lieutenant to general.
He later worked in Leningrad as deputy chairman for aviation of the Volunteer Society for Cooperation with the Army, Aviation, and Navy.