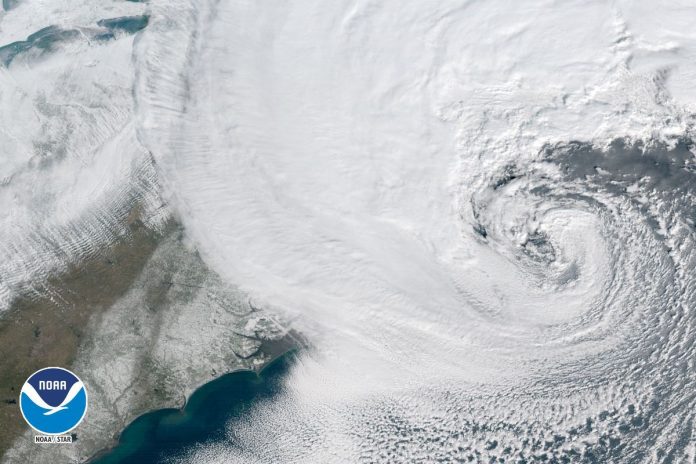 A powerful and winter storm also called bomb cyclone is slamming the East Coast of the United States—threatening the lives of millions of people.
A bomb cyclone develops when a synoptic low-pressure system (mid-latitude cyclone) intensifies and experiences a significant drop in atmospheric pressure rapidly. Meteorologists call this process bombogenesis.
Authorities already recorded at least 16 deaths due to the severe weather. Six people died in Wisconsin, 4 in Texas, 3 in North Carolina, and one each in Michigan, Missouri, and North Carolina.
Today, the National Weather Service issued winter storm and blizzard warnings from Virginia to Maine. Almost 60 million people are in the path of the bomb cyclone.
Traveling in these areas will be extremely difficult due to heavy snow, strong winds and coastal flooding.
This morning's #GOESEast view of the powerful #BombCyclone as it batters the East Coast with heavy snow and strong winds. #noreaster #blizzard2018. More satellite imagery: https://t.co/mbgRYot60A pic.twitter.com/qblv8x5QcM

— NOAA Satellites (@NOAASatellites) January 4, 2018
Yesterday, the bomb cyclone already disrupted more than 3,300 U.S. flights. The Northeast is expected to continue to suffer a widespread disruption in travel through the weekend.
According to weather forecasters, Boston and New York City will experience as much as 18 inches and one feet of snow, respectively.
Strong and damaging winds will likely knock down trees and contribute to power outages. In fact, utility companies in five states reported power outages affecting more than 46,000 customers.
Governors Cuomo and McAuliffe declared state of emergency
Governor Andrew Cuomo declared a state of emergency across New York City, Long Island and Westchester. The governor also activated the State Emergency Operations Center to monitor potentially dangerous winter storm conditions.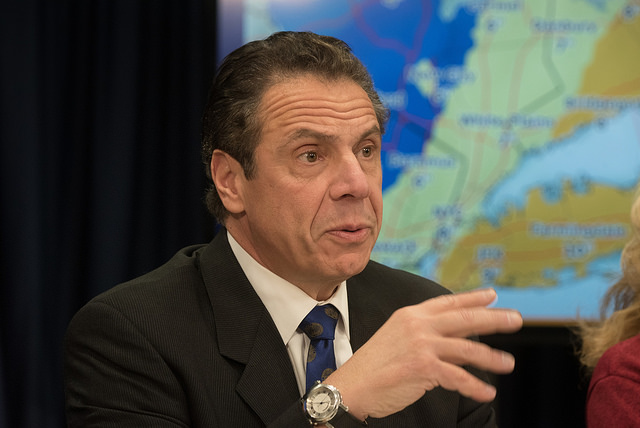 During a press conference, Gov. Cuomo said, "The situation has continued to deteriorate." He asked New Yorkers to stay home, safe, and continue to prepare for cold and snow.
Additionally, Gov. Cuomo said, "We will continue to monitor the storm and have deployed hundreds of assets and personnel across the state and on Long Island, ready to respond and assist impacted communities."
In Virginia, Governor Terry McAuliffe also declared a state of emergency. He encouraged Virginians to prepare for the winter storm. The eastern part of state could get as much as a foot of snow.
"With this forecast in mind, all Virginians should take the necessary precautions now to ensure they are prepared for the travel disruptions, power outages and other threats to health and safety that could arise during this significant weather event," said Gov. McAuliffe.