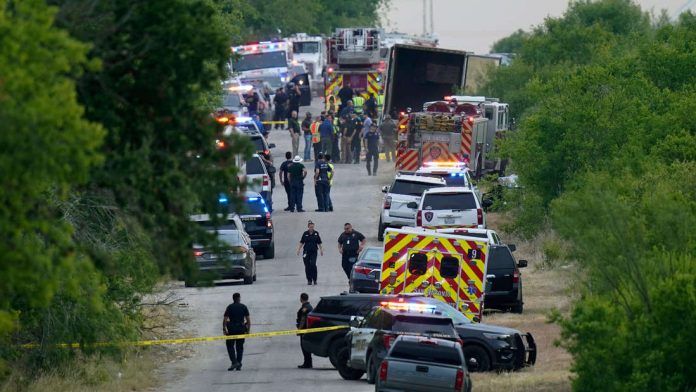 At least 46 migrants were found dead in an enclosed 18-wheeler in San Antonio on Monday. Amid the border crisis, the Texas tragedy continues to unfold with 12 adults and 4 children hospitalized. 
UPDATE: As of June 28th, the number of migrants that have died is 50. 
This incident is the deadliest case of human smuggling on U.S. soil. Until now, the worst was in May 2003, when 19 migrants died in the rear compartment of an 18-wheeler in South Texas.
In November 2021, a man was sentenced to nearly two and a half years in prison for smuggling illegal aliens from Laredo, Texas, in a tanker truck to San Antonio.
In April 2022, 76 migrants were found jammed into the back of a truck along with a large stash of drugs in rural Dimmit County.
One official said that authorities believe that the bodies were those of migrants, according to The Texas Tribune. https://t.co/QfPPFjZZ4X

— Fort Worth Star-Telegram (@startelegram) June 28, 2022
At the scene
The tractor-trailer was located just off I-35 where it had pulled onto a service road running parallel to some railroad tracks.
 The I-35 corridor is known to be a major transit route from the US-Mexico border. And is used often by human traffickers and drug smugglers.
The locked truck was first reported by a nearby construction worker who heard cries for help from inside the vehicle. The San Antonio police, and the Fire Department arrived on scene around 6 p.m.
San Antonio Fire Chief Charles Hood said during a press conference that rescuers were able to pull 16 survivors from the horrific vehicle. 
"The patients that we saw were hot to the touch. They were suffering from heat stroke, heat exhaustion, no signs of water in the vehicle. It was a refrigerated tractor trailer, but there was no visible working ac unit on that rig," Hood said.
San Antonio Police Chief William McManus described the scene during a news conference. He also said that "Three individuals were taken into custody."
The case has been turned over to federal authorities with Homeland Security Investigations of the U.S. Immigration and Customs Enforcement leading the investigation.
 HSI agents have identified individuals in the truck as migrants. And are trying to identify which cartel or human trafficking group may be responsible.
Biden's border crisis made worse by heatwave 
Inside the US smuggling organizations sometimes pack migrants into trucks and cargo trailers after they have already crossed the border with Mexico. Then they sneak them past highway checkpoints operated by the U.S. Border Patrol.
These latest deaths come amid an unprecedented surge in migration due to the policies of the Biden administration. The most recent Customs and Border Protection numbers show immigration arrests there in May rose to the highest levels ever recorded. And CBP made 239,416 arrests along the southern border last month. This is a 2% increase from April.
There were over 2 million detentions in the fiscal year 2022. which ends in September. And there was a record 1.73 million in 2021.  
The crisis at the border is only made worse by the extreme heat. And the rapidly increasing numbers are rarely acknowledged by the Biden administration. 
Growing numbers of people are arriving from countries Turkey, India, Russia and other nations outside the Western Hemisphere through the porous border with Mexico. And of course, higher numbers of migrants from Mexico, Central America, Cuba and Haiti are being recorded.
In the last two-week temperatures have been rising in the border states. And CBP Commissioner Chris Magnus has been warning about the heightened dangers of illegal crossings.
"As temperatures start to rise in the summer, human smugglers will continue to exploit vulnerable populations and recklessly endanger the lives of migrants for financial gain," Magnus said. "The terrain along the Southwest Border is extreme, the summer heat is severe, and the miles of desert that migrants must hike after crossing the border are unforgiving."
San Antonio Archdiocese prays for the victims
Faithful of the Archdiocese of San Antonio, we are still holding in prayers our people in Uvalde; now, we are told that over 40 migrant people, our people, have died here in San Antonio. There are about 15 survivors been sent to hospitals. Let's be in one in solidarity, O God!

— Archbishop Gustavo (@ABishopGustavo) June 28, 2022
"Faithful of the archdiocese of San Antonio, we are still holding in prayers our people in Uvalde; now, we are told that over 40 migrant people, our people, have died here in San Antonio," the San Antonio Archbishop posted on Twitter.
  "There are about 46 migrants dead in San Antonio. Lord have mercy on them," wrote San Antonio Archbishop Gustavo García-Siller on Twitter. "They hoped for a better life. Lord after Uvalde and now this, help us!"