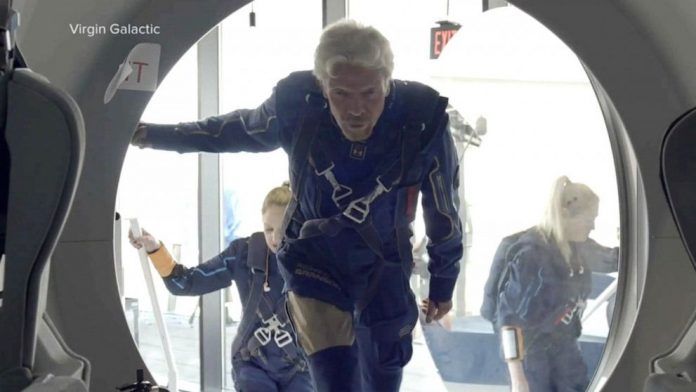 On Sunday, Sir Richard Branson aboard his company's spacecraft, VSS Unity, successfully completed its first crewed test flight into suborbital space. This was a major milestone for the Mojave, California-based Virgin Galactic. And paves the way for the company's goal of opening up commercial service in space in 2022.
Branson was the first billionaire in space. His launching ahead of Bezos or Elon Musk was "inspired marketing." And beating Bezos planned July 20th flight made the billionaire space race a little more interesting.
Volatile stock trading
Despite the successful space mission, Virgin Galactic stock was a little erratic on Monday.
Shares of Virgin Galactic slipped on Monday. Due to the announcement that the company was selling up to $500 million in common stock. 
Virgin Galactic (SPCE) promptly tumbled 17.3% after filing the notice of the stock sale offering with the Securities and Exchange Commission (SEC). And the early morning there was a brief stop on Virgin Galactic trading due to the volatility.
It appears that Virgin Galactic has 240 million shares outstanding. 164.6 million are still available to the public for trading. This is known as a "Float." With Friday's closing price of $49.20, there are still 10.2 million shares of Virgin's $500 million offerings available.
The stock closed down at $40.69 per share on Monday. And it still remains up more than 80% this year. The big step towards commercial space service was reflected in a 7% increase in pre-market trading.
Expecting good results
Retired NASA astronaut Nicole Stott told CNBC, she believes Branson's flight will be a positive influence on the commercial space race. 
"I think it's going to be huge," Stott emphasized. "We're on that cusp, right, going over the edge just like they did yesterday, and I think it's just going to accelerate from here."
Canaccord Genuity Group equity analyst Ken Herbert told his clients. "We view Branson's achievement as a massive marketing coup for Virgin Galactic that will be impossible for the public to ignore."
Herbert's firm has a buy rating on Branson's company but placed a $35 price target on the stock. That's below Monday's closing price.
Likewise, AB Bernstein analyst Douglas Harned told his clients "We see this as important on the path toward starting passenger flights, which we assume will happen in early 2022." And the firm placed a market performance rating on Virgin Galactic.
Space Flight shifts space race
On Sunday, with the launch of the VSS Unity, Branson opened up "space tourism" to the world. Before Branson took off billionaire CEO of Amazon and Blue Origin, Jeff Bezos was trolling the mission. One of his claims was that Blue Origin was better. And Bezos also felt that the Unity wasn't flying "high enough" to be in space.
Elon Musk showed up to encourage Branson. They are apparently good buddies. And neither of them cares for Bezos. The space race is continuing to heat up with Bezos scheduled to launch on July 20th.