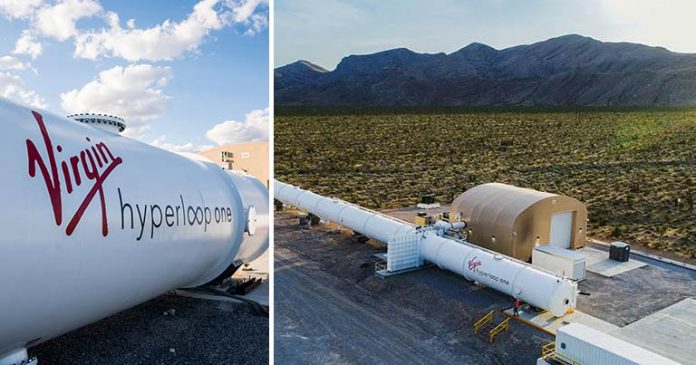 This week Virgin Hyperloop confirmed it has laid off half its employees and is abandoning development plans for a passenger transit system. 
Staff was cut via a video conference. And according to insiders 111 people were laid off. And the number of job cuts was "definitely not expected." 
The company confirmed the change in its business model. And said that the shift was due to weaknesses in the global supply chain exposed during the pandemic.
 The technology is needed to create a more robust transportation system for moving freight, not people. And the company also cites lower regulatory issues for transporting cargo as justification for the change in the business model.
In November 2020, the company had the first test of a successful passenger journey.  The company vision is of a high-speed "vacuum tube" passenger transportation system with pods moving over 650 miles per hour. That plan is now on hold. And the focus will shift to cargo-only shipments.
The firm was formerly known as Hyperloop One until Richard Branson's Virgin Group got an ownership interest in the company and Branson joined the Board of Directors. DP World, the Dubai-based remains the majority owner of Virgin Hyperloop. To date, the company has raised over $400 million from investors.
It's abundantly clear that potential customers are interested in cargo, while passenger travel is somewhat farther away," DP World said in a statement. "Focusing on pallets is easier to do — there is less risk for passengers and less of a regulatory process."
"It's allowing the company to respond in a more agile and nimble way and in a more cost-efficient manner," Virgin Hyperloop reported to the Financial Times. And the development of public transport will halt in favor of a laser focus on freight "These types of decisions are never taken lightly."
Virgin Hyperloop vs Elon Musk Boring Co. 
The vacuum-tube technology was initially pioneered by billionaire Elon Musk. And his efforts continue to focus on passenger transport.
The Boring Company, with Musk at the helm, is developing infrastructure and tunneling systems.
 Last year in Las Vegas it opened its first underground transportation system. And Tesla drivers, not vacuum tubes, ferry passengers throughout the system.
The Vegas 1.7-mile-long tunnel system cost the company an estimated $47 million to build. And the system is being expanded to run from the city center to the airport. 
Musk is planning to continue the build-out of underground tunnels for cars. He has projects starting in Texas, Florida. And is focusing on other states where there are fewer regulatory hurdles. And The Boring Company is stopping efforts in places like California.