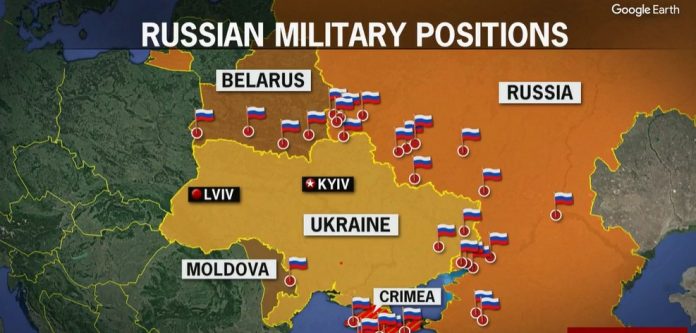 Russian President Vladimir Putin appeared in a televised statement Wednesday. He says that he has ordered a "special military operation" in eastern Ukraine.  But Ukraine is reporting that a Russian invasion is underway. And after Putin's statement, Russia launched a series of missile attacks on Ukrainian targets. 
On Monday, Russia had already invaded Ukraine's eastern border, sending troops into separatist-held regions.
 According to both the AP and BBC News, Russia has now launched a "full-scale invasion of Ukraine."  And Putin was not clear on the scope of his so-called military operation.
Ukraine air bases and other military installations are being targeted by the Russian army.  Explosions have been reported in multiple cities in Ukraine since Putin's announcement. But so far, no populated areas have been attacked.
Ukrainian President Volodymyr Zelenskyy has declared martial law throughout the country starting Wednesday. And he is urging citizens to stay home and stay off the streets. All Ukrainian citizens are being asked to leave Russia and return home.