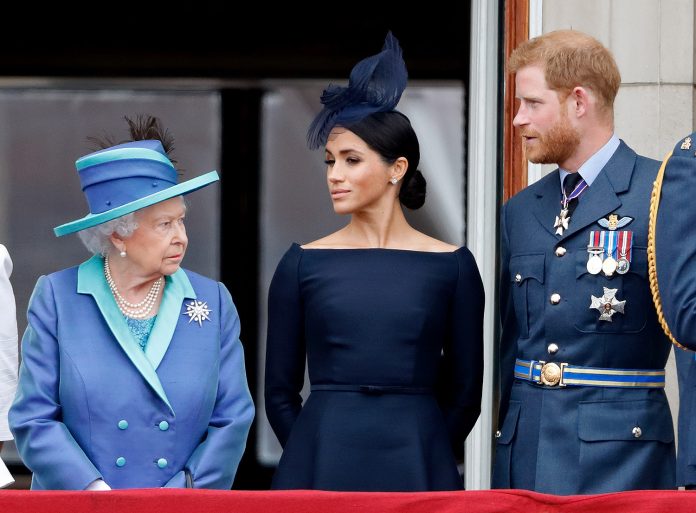 The royal family finally responded to Prince Harry and his wife Meghan Markle Duchesse of Sussex's interview with Oprah Winfrey on Sunday.
In a statement, Tuesday, the Buckingham Palace read on behalf of the Queen "The whole family is saddened to learn the full extent of how challenging the last few years have been for Harry and Meghan. The issues raised, particularly that of race, are concerning. Whilst some recollections may vary, they are taken very seriously and will be addressed by the family privately," it continued
"Harry, Meghan, and Archie will always be much-loved family members," the statement concluded.

The statement followed Markle and Harry's 2 hour long interview with Winfrey on CBS in the United States. Over 17 million viewers watched the interview. 
This statement also sent Twitter buzzing:
I think this is a good start. And I'm pleased the family will address this privately.

However I would still like to know from the Royal Family who made whom cry?

This is a simple question to answer. #HarryandMeghanonOprah pic.twitter.com/D5I0CuePtT

— Dawn Butler MP✊🏾💙 (@DawnButlerBrent) March 9, 2021
Markle and Harry Alleged the Palace of Racism
Meghan, Duchess of Sussex and an American actress popular for her role in "Suits" drama show revealed shocking facts about the place. She said in the interview that she had suicidal thoughts after she joined the royal family and never received help even while she was "begging for help." 
"I just didn't want to be alive anymore," she told Winfrey. "That was a clear and real and frightening and constant thought."
Additionally, Markle and Harry said ongoing "concerns and conversations" over their child's skin before he was born were alarming. The prince and duchess refused to give names in the interview. Later, Winfrey said that it was not Prince Philip or the Queen.
Markle claimed that she had no privacy. She illustrated in the interview her own definition of "basic right to privacy" saying: "If you're at work and you have a photograph of your child on your desk, and your coworker says, 'Oh, my gosh, your kid's so cute. That's fantastic! Can I see your phone so I can see all the pictures of your child?' You go, 'No. This is the picture I'm comfortable sharing with you,'" Meghan said.
No More Security Clearance for the Harry's Family
Additionally, the couple discussed their concerns regarding a lack of security. Markle stated, "Buckingham Palace threatened to remove security protection for my son."
This response to the couple's 2019 move to Canada and subsequent announcement to live as private citizens is based in diplomatic policy. "If he's not going to be a prince it's like 'OK, well he needs to be safe,'" Markle continued.
Winfrey tried to tug at emotional heartstrings while interviewing the multimillionaire couple. She lamented, "after the move, Harry and Meghan say security, normally provided by the Royal Family, was cut off."
As reported in the National Post:
On Jan. 8, 2020 the couple released a statement announcing they intended to "step back as 'senior' members of the Royal Family" and become "financially independent." Two weeks later, this prompted a statement from Buckingham Palace wishing the couple well on their new path, but making clear that they "will no longer receive public funds for Royal duties" and "can no longer formally represent The Queen."
Although the statement noted that the Palace "does not comment on the details of security arrangements," the new arrangement meant the couple would lose their rare status as Internationally Protected Persons (IPPs) effective in the "Spring of 2020."
There would have been severe diplomatic consequences if Buckingham Palace had insisted on retaining IPP status for people who were no longer working members of the House of Windsor.