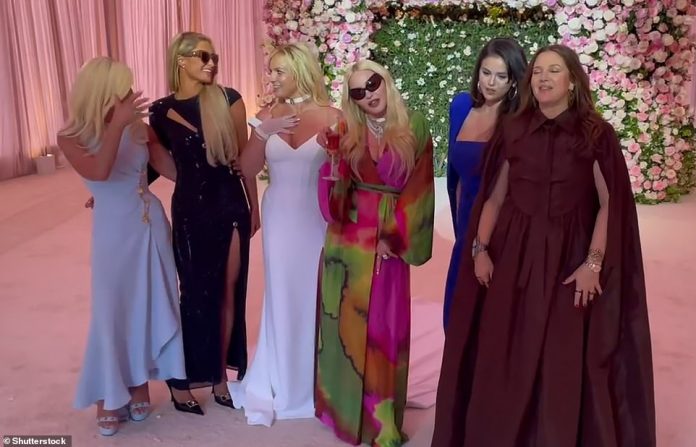 Britney Spears, 40, married Sam Asghari, 28, in a beautiful backyard ceremony in Los Angeles. Before the service a wedding crasher, her ex was arrested. 
Then the princess of pop entered in a fairytale horse-drawn carriage covered in pink roses.
 The singer wore a classic custom Versace gown. And walked down the aisle to Elvis Presley's "I Can't Help Falling in Love With You".
The rings and other jewelry were designed by Stephanie Gottlieb. 
Britney and Sam have been together since they met on the set of the "Slumber Party" music video in 2016. And they tied the knot on Thursday evening in the summer ceremony.
The wedding comes just seven months after the iconic singer won her freedom from an oppressive 13-year conservatorship run by her father.
In the middle of the legal battle with her father, Spears told the court of her desire to marry Asghari and have children. 
Earlier this year Spears announced to her fans that she was pregnant with the couple's child. Sadly they experienced a miscarriage in March.
Her attorney and friend Mathew Rosengart, who freed her legally from the conservatorship, also attended the nuptials.
It was a small wedding attended by her closest friends. Paris Hilton, Drew Barrymore, Madonna, Selena Gomez, and Donatella Versace.
Police rush to Britney Spears' wedding as ex-husband Jason Alexander crashes it https://t.co/TMZmRZ4LtJ

— philip lewis (@Phil_Lewis_) June 9, 2022
Asghari's representative Brandon Cohen said: "I am very ecstatic this day has come, and they are married. I know he wanted this for so long. He is so caring and supportive every step of the way."
Mathew Rosengart wished the couple well deserved happiness. He also commented on the wedding crasher.  And said he was "livid" about the "intrusion" and he thanked law enforcement officers for their quick work.
He also assured her fans that "Britney is safe." 
Drama as wedding crasher ex arrested
The wedding day was a happy day for the couple. Unfortunately there was some unexpected drama when a wedding crasher gained access to the private event.
 Britney's ex, Jason Alexander was livestreaming his attempts to get into the wedding before it started. He was stopped by Britney's security team and arrested by the cops.
Alexander was married to Britney  for less than 3 days in 2004. The impulsive Las Vegas wedding was quickly annulled. And Britney and Alexander have not been in communications since that time.  
Alexander was on Instagram live when he approached the inside of the wedding venue. The room was decorated but empty. And Alexander told the live stream audience that Britney had invited him.  He had no invitation and was not on the list.
"She's my first wife, my only wife," said Alexander, referring to his 55 hour marriage to Spears who was his childhood friend.
Ventura County Sheriff's Capt. Cameron Henderson said officers responded to a trespassing call after 2 p.m. Thursday. The wedding crasher was being held by security.
Henderson adds that Alexander was arrested after officers noticed he had an outstanding felony warrant for his arrest in Napa county.
Spears was previously married to Kevin Federline. And she has two sons, ages 14 and 15 from that marriage.