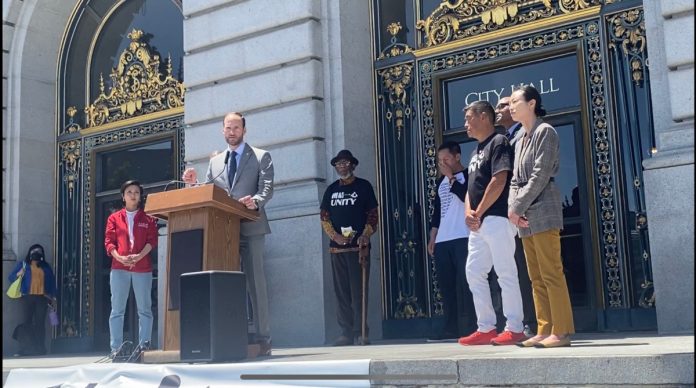 San Francisco voted this week to recall District Attorney Chesa Boudin. 
DA Boudin is one of the most soft-on-crime prosecutors in the country. And he spent the first part of his career as a deputy public defender. His critics say he is far too lenient on repeat offenders. And believe he is not concerned with public safety.
He won the 2019 election with only 35 percent of first-choice votes. Over 64 percent of voters chose one of the three other candidates who were former prosecutors and ran on stronger enforcement. 
Since being elected the DA has had a contentious relationship with the city's police. And there has been an unprecedented spike in crime.
The city has experienced a rapidly rising crime rate. Burglaries and auto smash-and-grabs are increasing. 1000 addicts a year die on the streets of the city.
His views may have been formed over 40 years ago. His parents were part of the subversive Weatherman group. And were convicted of the first-degree murder of two police officers during the robbery of a Brinks truck.  
Chesa Boudin recall
The group Safer SF Without Boudin was able to compile tens of thousands of signatures to get the recall on the ballot. 
Boudin has been publicly critical of police for not clearing more crimes. And he has a reputation for failing to prosecute cases.
Some of the released repeat offenders have gone out to commit other crimes. This includes the high-profile case, Troy Macallister. He had multiple arrests over 12-months, and a history of felony convictions including robbery. 
Boudin overruled the deputy DA and chose not to jail or prosecute the felon.
On New Year's Eve, he killed two women while driving a stolen car while drunk and high on meth.
Macallister was charged with "Two counts of voluntary manslaughter, possession of a stolen vehicle, leaving the scene of an accident, burglary, driving while under the influence of alcohol and drugs, driving while addicted to drugs, possessing a gun and a large-capacity ammunition magazine, and violating the terms of parole." 
Boudin refused to admit that releasing Macallister on parole was a mistake. And defended his decision to an outraged public. "We evaluated the facts, the strength of the case and the charges, and decided it was more likely that he would be held accountable through parole."
Proposition H passes
The recall was on the ballot as "Proposition H". It passed with more than 60% of the vote.
Mayor London Breed is tasked with appointing an interim district attorney.
Mary Jung, chair of the Safer SF Without Boudin campaign, declared victory in the recall.
"Election results show that San Franciscans and Democrats of all stripes, from every neighborhood, want new leadership to manage a DA's office that has been in chaos. San Franciscans want leadership that holds serious, violent, and repeat offenders accountable while never forgetting the rights of victims and their families," Jung said.
Miriam Krinsky of the pro Boudin group "Fair and Just Prosecution", said that "DA Boudin was made a scapegoat for a city facing numerous societal challenges, many of which existed before he took office, some of which were the result of the unprecedented stresses of the pandemic and almost all of which are beyond the ambit of a prosecutor's reach or role."