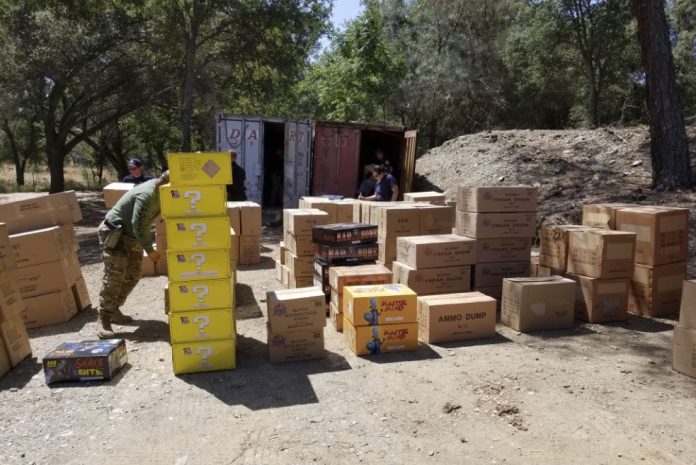 The California Department of Forestry and Fire Protections (CAL FIRE) arrested seven people  and confiscated more than 49,000 pounds of illegal fireworks. It is the largest fireworks seizure in the history of California.
In addition to the illegal fireworks, the agency also sequestered computers, cellphones, firearms, personal items, and $115,000 in cash.
According to CAL FIRE, the seven people were connected to a large-scale illegal fireworks ring. The agency believes the suspects have been importing, distributing and selling dangerous and illegal fireworks across California for 30 years.
The agency's law enforcement officers seized the illegal fireworks stored in Copperopolis, Modesto, Salida, Hayward, Walnut Creek and Oakland.
CAL FIRE law enforcement officers made the arrest after conducting a three-year investigation. An anonymous tip triggered the probe.
The agency emphasized the dangers of illegal fireworks in its press release. In the United States, fireworks account two out of every five reported fires during the Independence Day celebration. In California, fireworks start 18,500 fires including structure and vehicle fires on average each year. "These fires, on average, cause three deaths, 40 civilian injuries and $43 million in direct property damage," according to CAL FIRE.
California has zero tolerance for use and sale of illegal fireworks
During a press conference, CAL FIRE Staff Chief Shane Cunningham said they recommended a variety of felony and misdemeanor charges against the seven suspects. The agency  transported and booked the suspects into the Calaveras County Jail.
CAL FIRE identified the suspects as Larry Lista, Maria San and Leon Cerasi (all three from Salida), Jack Schroll and Tanya Schroll (both  from Walnut Creek), Michael Solorio of Modesto and Donald Cerasi of Copperopolis.
In a statement, CAL FIRE Director Ken Pimlott, said,  California has "zero tolerance for the use and sale of illegal fireworks."
"With the increase in large, devastating fires across the state, we cannot stand by and allow this type of activity to occur, threatening not only property and natural resources, but the lives of the citizens we protect," he added.