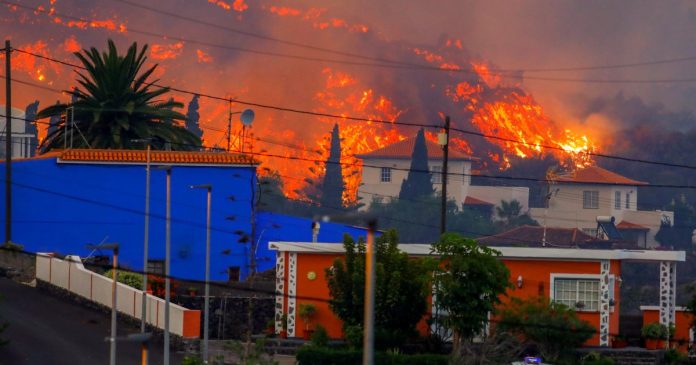 The  Cumbre Vieja Volcano on the Spanish island of La Palma continues erupting. The Canary Islands volcano is spewing fire and lava and spreading destruction throughout the area. Meanwhile, in Hawaii, the Kilauea volcano is also erupting.
According to Miguel Ángel Morcuende, technical director of the Canary Islands Volcanic Emergency Plan the lava has engulfed over 1,200 acres of land. And has poured into at least 60 acres of the Atlantic Ocean. 
Large banana plantations, small farms, 1,108 homes, and buildings, along with the surrounding land have been devastated, so far. Magma began streaming down the hillside on September 19. And on October 4th the molten lava blew another hole, in the volcano, which now streams into the water of the ocean. 
This is day 22 of the Canary Islands Volcano eruption.
La Palma has 83,000 inhabitants. About 6,000 of them have been evacuated from their homes.
La Palma Airport closed
The ash was so thick that La Palma's airport was closed since Thursday.  Spanish air traffic operator Aena (AENA.MC) issued a statement that said all other Canary Islands airports remain open. 
But the volcano emissions are a big problem for flights to and from all the airports. Ash cloud disrupted air traffic on the neighboring island of Tenerife and forced flight delays.
Airlines flying to the Canary Islands are advised to load extra fuel. It is anticipated that planes may have to change course or delay their landings because of air quality issues, said a spokesman for Enaire, the navigation control agency for Spanish airspace.
Canary Islands Volcano seismic intensity increases
On Saturday there were 37 seismic movements. The largest was measured at 4.1, according to the Spanish National Geological Institute. There has been a steady increase in seismic activity on the island. The number of earthquakes and their magnitude are more frequent and have a higher intensity.
Lightning flashes have been seen near the eruption activity.  A study published in 2016 by the journal Geophysical Research Letters found that lightning is often produced during volcanic eruptions. The phenomenon is caused when ash particles collide and create an electrical charge.
The volcano response team or  PEVOLCA said on Thursday that air quality on the island is markedly worse due to changing weather conditions.
Watch some real-time video courtesy Of TV Canarias: Canary Island Volcano