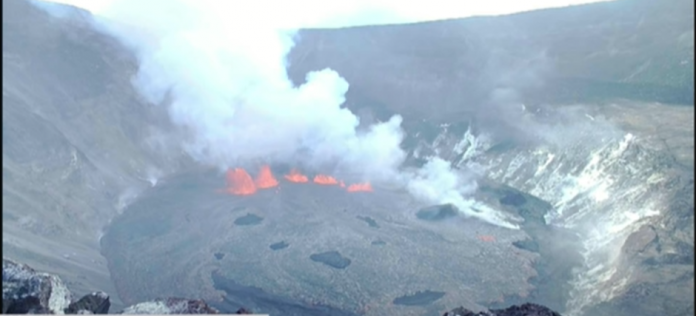 The Hawaiian Volcano Observatory confirmed that the Kilauea volcano is erupting on the big island. Hawaiian Volcanoes National Park.
The last activity here was in May. But now Kilauea is visibly erupting at its summit. Scientists have observed flashes of fiery lava erupting as high as 100 feet. And the floor of Halemaumau Crater is a collection point for the lava.
Hawaiian Volcano Observatory scientist-in-charge, Ken Hon reported the eruption started on Wednesday afternoon. And it has escalated from a "watch" to a "warning". Hon said the eruption had a "very rapid onset."
 Currently, there is no threat to any buildings or nearby communities. The eruption is expected to stay within the National Park. And all the lava is confined within the volcano crater.
However, officials said that volcanic gas and heavy emissions could become a concern. The eruption is sending a steady stream of thick debris up into the air. Officials also warned of the possibility of rocks and tephra being blasted from the crater. And  "Pele's hair," tiny strands of fiberglass are emitted into the atmosphere.
"It is completely confined to Halemaumau," Hon explained. "Lava is basically flooding the bottom of Halemaumau at this time but there is no real high fountaining that can be seen outside of the caldera."
Timelapse of the new summit eruption on Kīlauea volcano.https://t.co/Gb5IDeQTjn

NPS Video/J.Wei pic.twitter.com/f2a7ZSWEIe

— Hawaii Volcanoes NPS (@Volcanoes_NPS) September 30, 2021
Volcanoes National Park prepares for crowds
Hawaiian Volcanoes National Park spokeswoman Jessica Ferracane said the park service was already seeing a rush of spectators on Wednesday evening. And it was anticipated that big crowds would be on-hand to see the spectacle.
Hawaii Volcanoes National Park protects some of the most unique geological, biological landscapes in the world. The park encompasses both the Kilauea and Mauna Loa volcanoes, which are said to be some of the most active in the world.
The park is open 24/7, but Ferracane urged visitors to "recreate responsibly.  We're excited, but we're also cautious," she said.
Visitors are packing the park to see the night sky light up.
2018 eruption left widespread damage
Hon said it's not clear how long the eruption will last.  But he added that in the past 60 years it has been observed that eruptions within the caldera usually last less than a year.
During the eruption at Kilauea that ended in May about 11 billion gallons of lava erupted into the crater.
So far a 2018 eruption of Kilauea was the most destructive since scientists have been monitoring volcanoes. It exploded lava into lower Puna. And entire communities were destroyed.
Officials emphasize this current eruption is confined to the summit. And it poses no immediate danger to area residents.