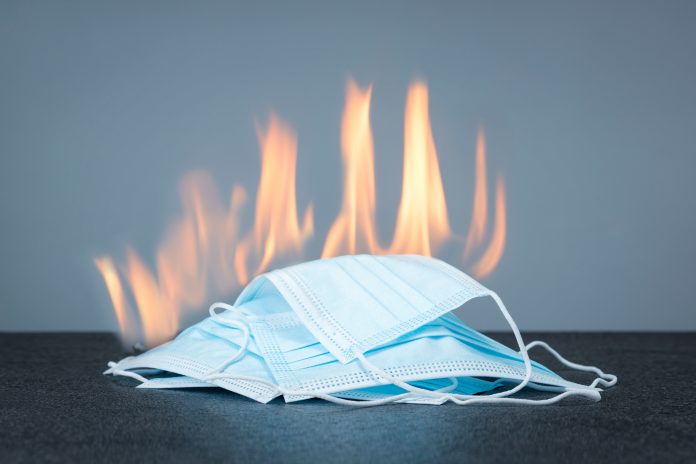 The mask debate in the United States remains alive and well, even as masks are gradually going away.
Many folks throughout the nation are more than happy to take off their masks; this sentiment has increased especially due to the presence of several different brands of coronavirus vaccines. Some Americans who previously masked up are more comfortable going maskless after being 100% inoculated against COVID-19.
However, not everyone falls into this category. Some folks are still wearing their masks, even after receiving full vaccination status. President Biden is a prime example; several weeks ago, the 46th president wore a face covering while Zooming with world leaders.
Other Americans with left-of-center leanings have admitted on social media that they will continue to mask up, so that no one mistakes them as right-wingers. However, Republicans in the Senate are urging the Center for Disease Control and Prevention (CDC) to trash the mask mandate for fully vaccinated Americans once and for all.
GOP senators to the CDC on masks
Yesterday, several Republican senators urged the CDC to drop the mask mandate.
These GOP lawmakers pointed out that despite more than 150 individuals getting complete vaccination against COVID, the CDC has yet to follow the science and lift the masking requirement for travel; this comes in spite of businesses across the nation reversing their mask orders.
Sen. Ted Cruz specifically called out the CDC and President Biden. The Texas Republican stated that both of these entities need to adhere to the science accordingly; to Cruz, this means no longer mandating fully vaccinated Americans to cover their faces while traveling.
Republican lawmakers also suggested that the recension of the mask mandate would encourage more Americans to get the vaccine.
Will the CDC take the advice from Republicans?
At this time, the CDC has not indicated that it has any plans to lift the mask requirement for fully immunized travelers.
This does not come as a huge surprise, however; over the past year, many Americans have accused the CDC of having political motivations for their guidance, rather than strictly scientific ones.
Recently, the CDC also lost a court battle against Florida regarding the sailing of cruise ships.