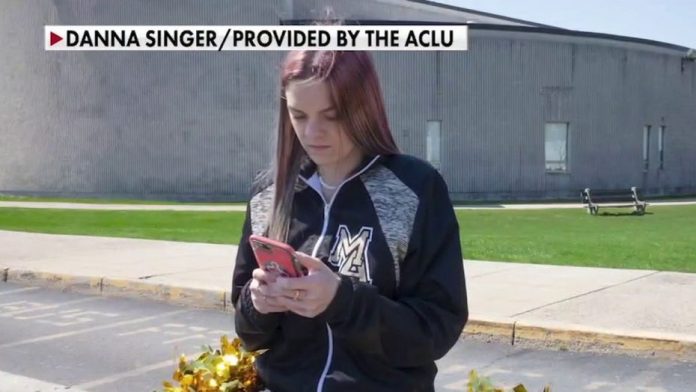 On Wednesday, the Supreme Court ruled in favor of a highschool cheerleader instead of her local school district. The court ruled her social media comments were protected speech under the First Amendment.
The court's ruling was 8-1 in favor of Brandi Levy.  Levy was a 14-year-old freshman when she vented on social media over not making the varsity cheerleading squad. She used a string of F-bombs and a raised middle finger to show her disappointment on Snapchat.
Levy, of Mahanoy City, Pennsylvania wrote the post when she was a freshman. It was a Saturday. She was at a local convenience store using her own phone when she posted.
Eventually, the school's cheerleading coach discovered the online posts. And the school retaliated by suspending the student from cheerleading activities for her junior year.
Highschool cheerleader case goes to Supreme Ct. 
Levy's parents responded by filing a federal lawsuit. The student was reinstated when the 3rd Circuit of U.S. Appeals Court in Philadelphia ruled in Levy's favor.
The reasoning of Judge Thomas Ambro with the other two 3rd Circuit judges on Levy's case was that the suspension was unwarranted. Because she "was not disruptive, either to the cheerleading team or school."
The Pennsylvania school district appealed to the Supreme Court. They disputed the idea that off-campus student speech was beyond a schools' authority to punish.
Freedom of Speech upheld
The case is the latest in a line of school versus student disputes that started with a Vietnam-era case Tinker v. Des Moines. In that case, students were suspended for wearing armbands to protest the Vietnam war. The Supreme Court landmark decision sided with the students. The court said students don't "shed their constitutional rights to freedom of speech or expression at the schoolhouse gate."
Justice Stephen Breyer wrote the majority opinion that Levy's First Amendment freedom of speech rights had been violated. Only Justice Clarence Thomas dissented, claiming he would have upheld the cheerleading suspension.
This case has garnered public attention due to the concept of remote learning during the techno-pandemic. And also a heightened awareness of online bullying. The school district argued that Levy's comments were bullying. And the courts resoundingly disagreed.
 The court was clear that the school could play a role in the case of bullying. And the ruling clarified when schools could act. 
Levy is now an 18-year-old college student starting her second year of college. 
"I feel like it wasn't only a win for me but it also was for 50 million other students. I was frustrated at the time, I was 14 years old, and I expressed my frustration the exact same way teenagers do today, and I feel as if young people need to have the ability to express themselves without worrying or being scared," Levy responded to the Supreme Court ruling in her favor.