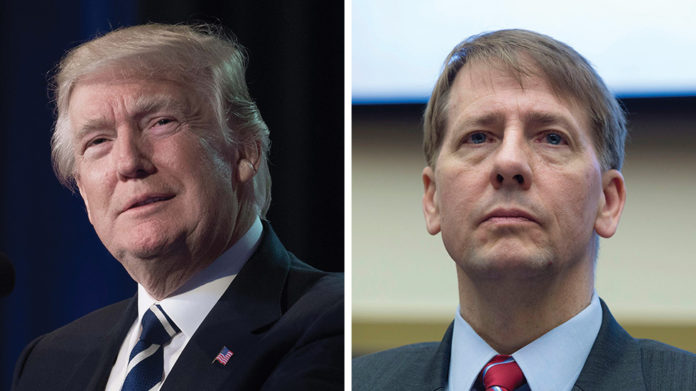 Thanksgiving has come and gone. When federal workers the Consumer Financial Protection Bureau (CFPB) showed up for work this morning, they had two bosses.
Last Friday, Richard Cordray resigned as head of the embattled agency. Cordray named Deputy Director Leandra English as his successor. President Trump, however, named his own successor for the post, Mick Mulvaney. Mulvaney was the director of the Office of Management and Budget (OMB.) The two "directors" were sending out dueling welcome emails Monday morning. Needless to say, confusion abounds at the agency.
What is the CFPB?
The CFPD was created during the Obama administration in the aftermath of the Great Recession. It is intended to protect Americans from predatory practices from financial services companies. The Dodd-Frank Act after the recession gave the CFPB to regulate things like credit card companies, mortgage practices, and student loans. The CFPB has returned $12 billion to consumers from corporations engaging in predatory practices.
Why is the CFPD a New Battleground?
The CFPB is not subject to Congressional budgetary constraints because it's funded by the Federal Reserve. Republicans insist that this makes the agency unaccountable and ripe for abuse. Republicans oppose the tight fines and regulations the agency can impose. The CFPB famously hit Wells Fargo with a $100 million fine for opening credit and bank accounts for customers without their consent.
Two Leaders
So here we are with two acting leaders of the CFPB: Mick Mulvaney and Leandra English. Democrats are desperately trying to preserve the agency's existence. Republicans are seeking to take control of an agency that has been outside of their purview. Furthermore, English has filed a suit in federal court against Trump and Mulvaney. English is seeking at least a temporary order to block Mulvaney from taking control while the court ponders the legality of Trump appointing Mulvaney.