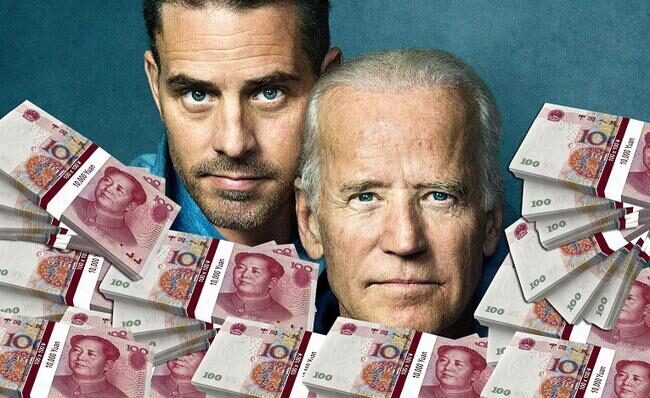 There have been calls to investigate large anonymous donations of Chinese cash which may be linking President Joe Biden to the University of Pennsylvania. And all ties back to Hunter Bidens's laptop.
The University of Pennsylvania received anonymous donations from China. They totaled as much as $70 million from 2014 through 2019. The bulk of the money came in 2017-2018, according to public records.
It is alleged that some of the money may be related to Hunter Biden's business interests in China. The National Legal and Policy Center, a Virginia-based watchdog, has been filing a complaint since before Joe Biden was elected president. 
The NLPC is now asking the US Attorney probing Hunter Biden in Delaware to investigate tens of millions in anonymous donations from China to the University of Pennsylvania. And its ties to Penn Biden Center for Diplomacy and Global Engagement named for his father, President Biden.
"We've asked Weiss to pursue the larger network of individuals and institutions who benefited from millions doled out by foreign interests connected to Hunter Biden's work in China and Ukraine," Tom Anderson, director of NLPC's Government Integrity Project said.
The original 12-page complaint was sent in 2020 to both the DOJ and the US Department of Education.
Laptop disclosures
2017 texts found on Hunter's laptop identify the CEFC China Energy Co, as one of the firms that Hunter was given a financial stake in. 
And CEFC was asking Hunter how to lobby politicians in the US. But they did not want to register under the Foreign Agent Registration Act (FARA). FARA registration is a requirement for all foreign lobbyists.
"We don't want to have to register as foreign agents under the FCPA [sic] which … is much more expansive than people who should know choose not to know," reads the May 1, 2017, text. Hunter Biden sent to his former business partner Tony Bobulinski.
Trail of Chinese cash 
The investigation of Hunter Biden's laptop is shaking up DC. And large amounts of Chinese cash are hard to hide.  Federal law requires the disclosure of the source of all donations over $250,000. 
At Penn State most of these donations came after the university announced in February 2017 that it would create the Penn Biden Center for Diplomacy and Global Engagement. Joe Biden's term as vice president had ended. And he was named a professor at the university. And set to "lead" the Biden Center.
The center, located in Washington, DC., opened in February 2018. 
Penn paid Joe Biden more than $900K between the time he left his VP slot and returned to the White House as President.  Joe Biden didn't teach regular classes or have a defined role at Penn. But the school was likely paying him for the prestige of associating with a former vice president and global figure.
The Ivy League university received a large donation of $14.5 million in May 2018, records show.
Penn denies wrongdoing 
A University of Pennsylvania spokesman denied any anonymous Chinese money had gone directly to the Biden center.
"The Penn Biden Center has never solicited or received any gifts from any Chinese or other foreign entity. In fact, the University has never solicited any gifts for the Center," Stephen McCarthy said.
However, he would not disclose the identity of the Chinese donors. And did not say how the Chinese cash was spent by the University.