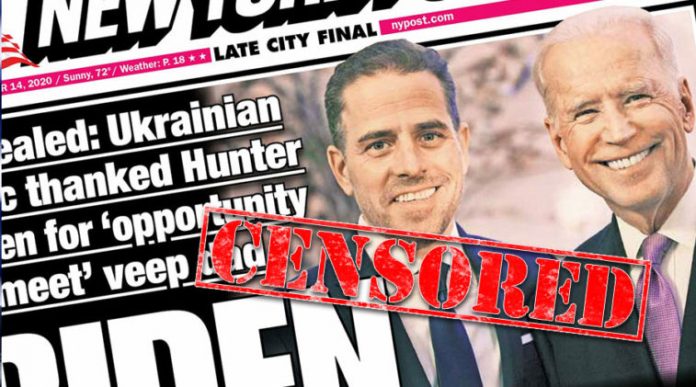 This week White House press secretary Jen Psaki just shrugged her shoulders when the White House Press Corp finally asked her about her election claims. The Hunter Biden laptop story has been suppressed for over two years. And anyone that tried to tell it was cut from social media. 
At that time the media echoed Jen Psaki and the Democrat's talking points that Hunter Biden's laptop was "Russian disinformation." 
Even Joe Biden who was the Democrat Presidential candidate used that line at a campaign stop.
The irony is that Russian President Vladimir Putin does have an active disinformation media. Although most of it is directed at his own people. 
Hunter Biden laptop is no secret in Washington 
In the summer of 2020, a laptop surfaced that was turned over to the FBI from a Wilmington, DE computer repair shop. It was Hunter Biden's laptop. And it was filled with a litany of his company's alleged corruption and potentially illegal activities.
There were some surprising revelations. But everyone in DC already knew of the blatant, barely hidden corruption of the Biden family. It had made more than a few ripples while Joe was the VP. 
And the very suspicious activity of Hunter-Joe and Burismo was outlined in detail at the first impeachment of Donald Trump in February 2020. And it was overlooked, underreported, or ignored by the DC establishment. 
The laptop emails revealed that candidate Joe Biden may have been compromised by his son Hunter's business ties to Burisma Holdings in Ukraine. There are also emails with wealthy Russians, Libyans, Mexicans, and government-connected Chinese companies where Hunter is promising access to his father for cash. Or complaining that he gave them access and he wants them to "reciprocate."
 Many of these foreign nationals paid large sums to BHR, Hunter's company.
Just weeks before the election when the New York Post broke the story and published copies of some of the "smoking gun" emails. Only the timing was a surprise. DC already knew the truth.
Ahead of the 2020 election the laptop also revealed a 2017 email describing a 10 percent set-aside for "the big guy" as part of a deal with a Chinese energy company. And this was confirmed by an ex-business partner of Hunter Biden. Tony Bobulinski came forward at the time and confirmed the laptop was the real deal. And he also explained that Joe Biden was the "big guy."
The cover-up and misdirection
The New York Post story was immediately perceived as a threat to Joe Biden's run for the White House. And Twitter, Facebook, and Instagram reacted quickly to protect him. They would not share the links. And even deactivated the Posts account along with others that tried to share the story.
This was when Psaki as a spokesman for Biden first used the "Russian disinformation" gambit. And it was this phrase that "helped fuel Big Tech censorship of The Post's reporting in the days before the 2020 election."
Twitter and Facebook both "initially censored distribution of The Post's bombshell 2020 reports on Hunter's laptop in response to claims the records may have been hacked or forged by Russia."
And then the story disappeared.  
Even recently, as a grand jury was meeting about potential Biden crimes, mainstream news sources have largely ignored it.
The cover-up and censorship lasted 17 months. Then magically and mysteriously the New York Times authenticated the emails. These are the same emails, from the same laptop, that the New York Post was able to authenticate in 2020.
Joe Biden is in the White House.  And Hunter may be in trouble, anyway.
Late Wednesday, the New York Post reported on the Biden case. Hunter Biden has recently paid almost $1 million to the IRS. "But he remains under federal investigation for potentially violating tax, money laundering, and foreign lobbying laws."
What role did Joe play?
And according to the Post reporters are asking President Biden's press secretary, Psaki some questions. 
 "The New York Times has authenticated emails that appear to have come from a laptop abandoned by Hunter Biden in Delaware," began RealClearPolitics reporter Philip Wegmann. "The president previously said that the New York Post story about this was a "bunch of garbage" and that it was a "Russian plant." Does he stand by that assessment?"
Although she was asked about President Biden's comments on the laptop, Psaki replied, "I'd point you to the Department of Justice and also to Hunter Biden's representatives. He doesn't work in the government."
Hunter's investment fund, BHR Partners, was registered 12 days after he joined his Dad Vice President Biden aboard Air Force Two for a 2013 trip to Beijing.
There are lots of items on the Hunter Biden laptop that can be directly tied to Joe Biden when he was the VP under Obama. And a myriad of the new President's statements about specific emails are arguably false.
So, we will try to follow the story. And hope it doesn't disappear this time.