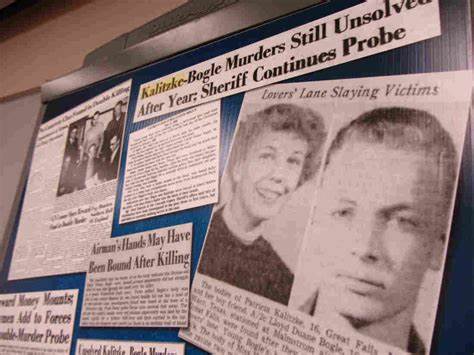 For almost 4-decades the death of a newborn baby remained a mystery. Then in 2021, Theresa Rose Bentaas, 60, received a 10-year prison sentence for the death of her child. The case was solved when she was DNA-linked as the mother. 
A cold case from 1981 
In February of 1981, the body of a newborn baby was found. The child, known as "Baby Andrew," was found wrapped in blankets, in a ditch, on the outskirts of Sioux Falls, South Dakota.  
71-year-old Lee Litz was 31 when he found the body. He has never forgotten that day. And testified that he was test driving a jeep with friends on Feb. 28, 1981, when he spotted the blankets.
"My curiosity got the best of me, and I went over to see what it was," Litz said to the court. "That's when I found Andrew laying there with his back towards me."
An autopsy, at the time, could find no sign of violence or trauma. The determination was made that the infant likely died from failure to assist in maintaining an airway during his birth or from exposure.
The baby was given the name Andrew John Doe. And the community provided a headstone when the baby was buried. The police were unable to find the infant's parents. And with little to go on the case went cold.
DNA-linked mother and child
In 2009, Sioux Falls detective Webber had the infant's body exhumed to obtain DNA evidence. Initial database searches gave no results. By 2019 the developing search-science had evolved. 
And by tracking through a distant relative on a genealogy database from Parabon NanoLab detectives were able to narrow its DNA to a local family tree.
Webber said the search pointed to Bentaas as the mother and her husband Dirk as the father. To confirm they obtained DNA samples from the couple's trash.
And it was proven that the DNA-linked Baby Andrew to the couple. 
Bentaas  hid pregnancy
Theresa  Bentaas admitted to police she was "young and stupid" during her pregnancy. In shock, from being single and pregnant in the early 1980's she hid her pregnancy from everyone. And ultimately gave birth alone in her apartment. 
A psychologist who interviewed Bentaas claimed she had "complete pregnancy denial syndrome," and did not know she was pregnant until she woke up in the middle of the night in the pains of childbirth. And still exhibits impaired memory of the event.
Bentaas' daughter, Melissa Pheilmeier, said "Andrew and my mother are victims of their situation, victims of the culture and the stigma of a young, unwed pregnant girl in 1981."
According to the AP, Theresa claimed her baby was born dead. "He was not moving. He was not breathing. He was not alive," she said to the parole board.
Dirk was not charged. He and the defendant went on to have two children that are now adults. They also have grandchildren.  Theresa by all accounts is a loving and caring mother and grandmother. And her children testified, to that, at her parole hearing.
Alford Plea
Theresa initially pleaded "not guilty" to 3 charges. In December 2021 she took an "Alford plea" to a first-degree manslaughter charge. She maintained her innocence but agreed to a guilty plea. And prosecutors dropped first- and second-degree murder charges.
Her attorneys maintained that Bentaas had not killed her baby. And that he died soon after his unexpected birth.
And she was sentenced to 10 years in prison.
Parole was granted by circuit judge Andrew Zell at a hearing on Thursday, March 17, 2022. She spent two months in prison and was held in jail for 73 days pre-trial.
DNA-linked technology
The local newspaper the Argus Leader points out that DNA technology is being used more often to solve cold cases. Investigative methods merging DNA and genealogy were used by law enforcement in the 1992 murder of teacher Christy Mirack, the 58-year of Marise Ann Chiverella case, and the infamous "Golden State Killer" case.