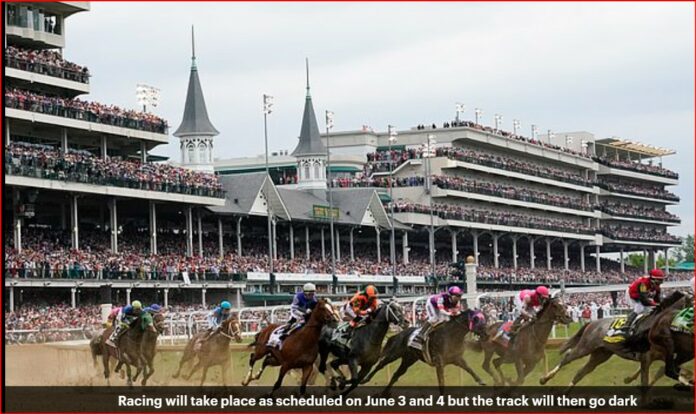 Churchill Downs, the racetrack famous for hosting the Kentucky Derby, has announced they will suspend racing operations for the remainder of the 2023 Spring Meet. Twelve racehorses have lost their lives at the track within the past six weeks.
The Horseracing Integrity and Safety Authority (HISA), a federally mandated regulatory body is dedicated to ensuring the welfare of racehorses. 
HISA has already launched an investigation into these fatalities.
While live racing will proceed as scheduled on June 3 and 4, the track will shut down to accommodate the investigators.
The Spring Meet, originally scheduled to run until July 3, will now be relocated to Ellis Park. 
The races that were planned for Wednesday through Friday have been canceled, and Ellis Park will take over the remainder of the meet starting on June 10.
During the period when races are relocated to Ellis Park, the conditions and purse money for the races will remain the same as they would have been at Churchill Downs. And trainers and jockeys will receive a stipend to cover any additional costs they may incur. 
7 Racehorses died after injuries 
Churchill Downs' decision to suspend racing activities stems from the need to conduct a comprehensive review of safety and surface protocols. The recent fatalities have left officials searching for answers since there is no common cause or pattern to the deaths.